more travel and then fun in Carriacou

Sulayacht
Tue 14 Jun 2011 11:14
The squalls you have to watch out for, these were babies, the worst ones come in the dark when you can't always make them out.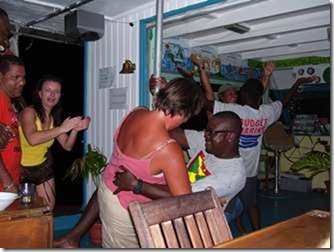 We went for 'Happy Hour"aboard Hallelujah which is a cabin cruiser which has been upgraded to a sailors bar and restaurant,
popular with locals on a Sunday evening, here we met Cheryl & Robin from Just Imagine, and I tried to learn pole dancing!
Within an hour of departing Carriacou heading from Grenada we landed a Big Eyed Tuna!
---