10 40.918N 061 37.179W

Sulayacht
Tue 7 Jul 2015 22:18
We left St Martin on the afternoon of Tuesday the 16th June and plotted a course for Trinidad, with the seas choppy and changeable, the current setting to the West and the winds out of the South East, we were making 30 degrees of drift so it was a slightly wet, salty angle of sail and slow. Saturday, 20th June after 335 miles in 37 hours, sees us dropping anchor in Canouan and very pleased to do so, the winds had freshened and it was becoming a bit of a slog so we were pleased to stop for a couple of days on the anchor. This was not without its drama, as Monday arrived the wind was gusting from all directions we decided to re-anchor in a more sheltered spot, only when I came to drop the anchor the chain parted and we had the anchor and half of the chain in 50 foot of water and the rest of the chain in the anchor locker! Rig up the second anchor onto the remaining chain and head towards the shore anchorage for shallower water and more protection from the wind, of course wind picks up and begins gusting around and when we get up at 02.00 hours Tuesday we find that we have dragged our anchor in between two other boats and re anchored ourselves! Chris does the night watch and we move again early in the morning, back toward where we have left the first anchor, which enough to say we locate and retrieve it!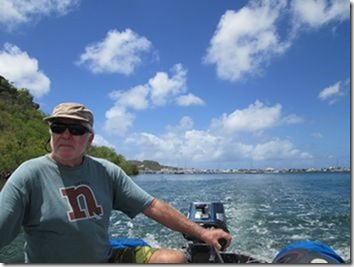 Stopover in Canouan.
The morning of Wednesday 24th June with a good forecast we said a sad farewell to Chris's Straw hat we set three reefs in the main sail and head a course for Trinidad, we headed through the Tobago Cays and out to the East of Petit St Vincent, Petit Martinique, Carriacou and Grenada 120 miles to go.
A really good sail, steady winds, good angle of sail, looking like we will do a 20 hour run, and then we reach Hibiscus Rig, 25 miles North of the Boca, (the entrance to Chaguaramus), it is 07.00 and suddenly we are being pushed West towards Venezuelan at a rate of knots and we couldn't steer out of it, we were caught in the West flowing tidal eddy going at full bore! Now that wouldn't have been too bad but at this point the genoa furling line decided to unfurl nearly all of the sail, not enough to enable us to drop the sail, enough for Chris to have to go on deck and furl the sail using a large screwdriver as a lever! No problem, put out the stay sail, only stay sail doesn't want to go out any further than 12 inches and then refuses to come in again.... Nothing for it, engine on tick over and autopilot while we don safety straps onto harnesses and onto the foredeck to repair and re-wrap the genoa reefing line, while being washed by the occasional wave.... Success means we put out enough sail to enable us to turn around and head through the two miles of 'washing machine' and out the other side, meaning it takes us 10 hours to sail 25 miles, but we are here at TTSA once more.
---