12.43.28N 061.19.81W

Sulayacht
Thu 22 Mar 2012 19:57
12th March, Our initial plan to sail to to Tobago Cays and have a few days snorkeling with the turtles in the Marine Park was put on hold because the weather is overcast and windy with a big swell so we set sail for Canouan which is further up the line of the Grenadines. We had good sail, with two reef in the main and stay sail set, hard on wind we did the journey of 15 miles in two tacks and anchored in Charlestown Bay the main anchorage of the Island. Charlestown Bay proved to be a very uncomfortable anchorage with swell and chop so we upped and move half a mile along the beach, easy reach of great snorkeling! Still in company with Just Imagine we are now joined by Nino, (Terry & Gus) Miklo III (Ellen & Rob) Sunshine 2 (Tim & Babs) and Moondance (Robert and Carolyn) a Clarkes Court Bay reunion! There is a great deal of activity on Canouan, lots of new building going on, the North of the island is a private resort with golf courses, spa and a large chalet complex they ae in the process of building a new hotel there. The moorings yacht charter company has a base here, with it's close proximity to the Tobago Cays it makes an ideal centre, but as far as the local population is concerned they are trying to get a high school built on the Island as the 11 year olds have to go to Union Island or St Vincent for their education.
While here we had great snorkeling, quite a few turtles and Robins Birthday...... March 19th Robin turned 65 so we celebrated with an early dinner of Lobster, Mahi Mahi and Conch in a beach restaurant and then with birthday cake on Just Imagine.
Views towards the Tobago Cays as you see not very bright or clear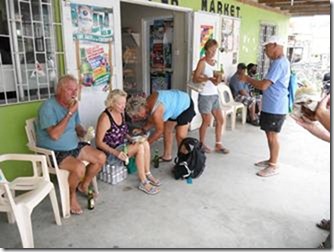 It took a lot of beers and research for the birthday venue...
but in the end whole lobster with sides at 15.00 GBP per person won for me.........
Robin even had room for birthday cakes x
---