Dinghy Works

Sulayacht
Sun 23 Sep 2012 20:40
While we are waiting for things to dry and happen on the hull Chris had thoughts to turn our soft bottom dinghy into a hard bottom! All the planning and designing and now we have a patented dinghy........ We had lots of people stop and look interested, some even dared to ask what was happening and of course the usual negative comments but we have faith in the finished product.
The basic V shape was constructed using 2 sheets of polyprop honeycomb cut to resemble flat pack and then piece by piece put in place and bonded with resin...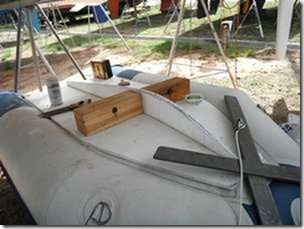 Then the whole lot was covered with fibreglass, I forgot pictures of that stage, sanded down
then bonded to the hull of the dinghy and given a paint with the barrier cote of resin and aluminium powder mix! Now doesn't that sound easy..........
---