Goodbye Trinidad

Sulayacht
Mon 18 Jan 2016 22:16
We enjoyed a very quiet Christmas and New Year in Trinidad, eating, drinking, walking and cycling, much the same as normal, thanks to the wonders of BBC IPlayer we were able to listen to the 9 lessons and carols on Christmas Eve, Service on Christmas Day and even the concert from Vienna on News Year Day. A bit cloudy as it appears from behind the hill, but we did see the full moon on Christmas Day, although it was clearer on Christmas Eve.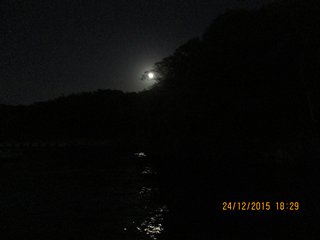 We have discovered a 'pick your own' market garden which is 2 miles from Chaguaramus and although I thought I was dying when I arrived on my bike an ice cream and friendly visit from the resident abandoned dog soon sorted me out, The really sad part of all the Caribbean Islands we have visited is the number of stray dogs, some healthier looking than others, this one is such a friendly thing and was dumped just before Christmas, it is very hard at times having to leave them behind ….,
you really didn't expect me to pick my own did you?
Since we have until the 14th Jan before Chris's visa expires and we have to leave Trinidad, we decide that a new mattress is in order, so we get the various pieces of foam, and Chris begins to cut and shape them to fit,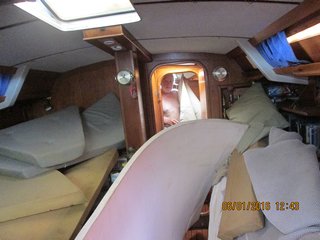 I thought I would treat Chris to a Yorkshire Pudding as he complains I only ever cook them when we have visitors on board, serves him right he has now got to get the cooker level right before the next one! A more successful evening is dining on swordfish at the Wheelhouse Pub and looking forward to our regular Saturday night of Shark and Bake.
Chris does all the final finishes to the side screens and the canopy, Quicksilver is looking so spic and span, all she needs now is a good cockpit scrub and that will wait until the sewing machine goes away!
However as we check the weather forecasts on the morning of Friday 8th 08.00 we get a forecast which shows by Sunday the winds from the NE would start to diminish substantially and the swell from the N increase! Which would leave us wallowing in big seas and not going anywhere fast. Oh hell, the weather window will close Sunday, so everything gets packed below as secure as possible, we test sails, adjust rigging, clear the decks ... at 16.00 check out with Immigration and Customs, final quick shop for basics, 1700 raise the anchor and motor around to Scotland Bay, anchor while sort out food, clothing for a night passage and finish stowing Chris goes into the water to check the prop, all is well.
Over the Christmas time there has been reports of two yachts on their way to Grenada being stopped, boarded and robbed, by what appears to be a Venezuelan fishing pirogue, no casualties, but a little disturbing. With the current political situation in Venezuela no one knows if this is an indication of how things are going to change in these waters or was it just an opportunist boarding, the second boat they robbed, they were not interested in Trinidadian $'s but took food, clothing and toilet rolls as well as electrical items. So in view of the current situation we place a telephone call to North Post Radio with our 'float plan' something we don't normally do but seems wise, and by 21.00 are on our way to Grenada!
This email has been scanned by BullGuard antivirus protection.
---