Trinidad

Sulayacht
Wed 23 Dec 2015 21:15
Returned to Trinidad and looking to depart for anchorages North once Chris has finished the sewing of the canopy, and repaired the stay sail reefing.
First thing is to do was a hull scrub, and then up the mast to repair roller reefing and do a rigging check, rigging check shows damage to one of the stays and cracks on the mast plate where it attaches to the mast, off to the rigging shop to order 4 new stays, on the assumption one has gone the others will follow! No problem there, then we both get an ear infection, combination residual cold for Chris, sinus Infection for me and then hull scrubbing!, Enough to say we needed anti biotics and the resulting dizziness meant no mast climbing, so rigging has to wait. Time marches on, Robin and Cheryl catch a weather window and head off, we have the new stays in place and get the rigging adjusted, canopy just about finished and the wind begin to blow! The trades winds, locally known as the Christmas Winds, have arrived with a vengeance, and looking at the long term weather predictions we are here until January, not that it matters we enjoy Trinidad and it means Chris can get some more sewing done and make some side covers, to act as sun shades and protect from the rain while still letting in light. Nearly done…..
n
And so we relax into Christmas and I construct the Christmas tree, beginning with the magazine …….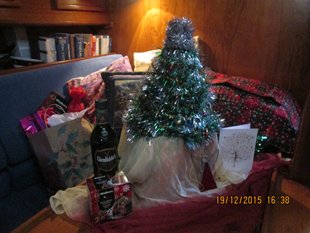 On Monday 21st December, Dad was in touch to say he has had his follow up visit with his consultant and the results are excellent, his PSA reading, which was 18.5 before the radiotherapy treatment began, is now 2 so all is good and we are one very happy family. x
This email has been scanned by BullGuard antivirus protection.
This email has been scanned by BullGuard antivirus protection.
---