Trinidad

Sulayacht
Sun 10 Nov 2013 21:48
Time to catch up with what has been happening
I had a wonderful time with Claire in Burg Wartenstein, Glognitz, as always lots of laughs with new and old friends, the ten days flew by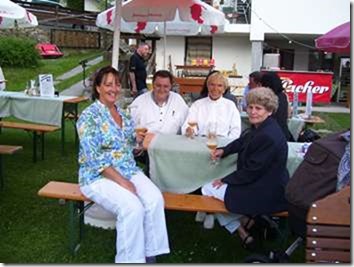 and so from Austria to Shildon where after a couple of days we moved up to Scotland where I began the process of clearing and disposing of 35 years of living and working in Glenborrodale. After a lot of thought we have made the decision to sell Foresters Cottage, for a variety of reasons, not least we cannot see a return to Scotland in the near future, my task this visit is to clear the 'sheds' and make ready for a sale. I have so many people to thank for their help that I hope I don't forget anyone....
Maris for the use of your home, Elaine for the use of your transport, Mam & Dad, Robin & Marilyn, Ally & Anne Marie for clearing, cleaning, fetching, carrying and all that goes with getting a 'Garage Sale' organised, and Martin for information, advise and on the day being salesman extraordinaire!
Sunday 26th August the 'Grand Garage Sale' day dawned bright, sunny and dry, we moved a lot of 'stuff' that day and since the house was empty we managed to move a pile of household goods too. Lots of hard work is beginning to pay off and although there is still a lot to move we have made a good inroad. I am just sorry I don't have pictures of 'before and after' of the skip.............................
---