Jolly Harbour

Sulayacht
Sat 19 Mar 2011 19:00
White Whisper, Ammachure, Balu and Quicksilver in English Harbour
Jolly Harbour is 12 miles North of English Harbour and we travelled up with Thomas & Regula stopping for lunch in Morris Bay and then anchored outside the marina in beautiful turquoise waters, not very clear as the sand is constantly moved by the swell but still a good place to swim and fantastic sunsets.
A good sail up the coast although looking across at Monserrat and Nevis the squalls were quite spectacular (as seen here from shore side)
Hired a car on Tuesday to take a look around the Island, not a lot to see really, we had already done the Heights and Nelsons Dockyard was where we stayed in EH. Lots of beautiful beaches not many of them accessible as private housing crowds the shoreline, met with a small school party on the beach and asked what was best to see on the island and the beach was a clear winner.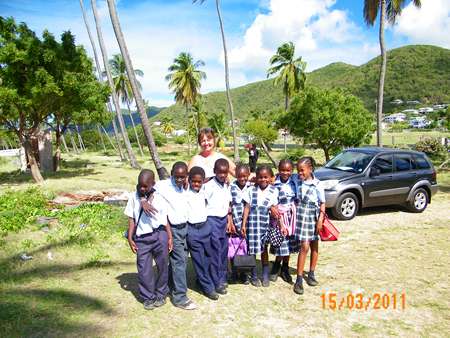 Saw the Sir Viv Richards Cricket Stadium from all angles, navigator just didn't get it right! Christian left on Thursday returning to Switzerland and so Friday saw us up anchor and head for Nevis.
---