more

Sulayacht
Wed 24 Aug 2011 17:17
We had Caribbean swifts nest in the boom of a yacht anchored next to us and finally this month they emerged and made their escape, look hard at the pic you may them on the wind generator, needless to say the owner of the yacht has been away for the last couple of months.
Our friends Connie & Jeffery are house and animal sitting so we had a good visit with them and plenty of time with the beautiful Burlingotn.
A road trip with C & J took us to the Black Beach, where we had a guide take us through the jungle to the Arawak Caves, and on our walk down to the beach we collected Mangoes and Limes, Laurence our cave guide presented us with a hand of Bananas, Chris made a new friend.
We had a Sunday afternoon jazz concert on the BBC beach, named after the BBC antennae that sits at the end of the beach. The local entertainment in the fishing boat consisted of drums, machetes and rum.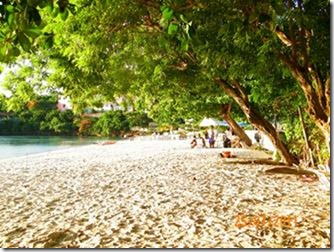 ---