Still in Trinidad

Sulayacht
Sat 28 Dec 2013 17:17
Wishing you all a very Merry Christmas and a Happy New Year!
Yes we are still in Trinidad and here is what is happened since my last writing........
I arrived back with just a couple of days to go before my birthday, Chris had organised the restaurant at TTSA to open for dinner for a few of us and we had a very nice meal, thank you Graham & Joanie, Robin & Cheryl, Ray & Irene, Thorsten & Laura for a lovely evening. Then I had to get organised to learn to ride my new bike which was Chris's present so we could travel the 2 miles between boatyards a lot quicker than walking and maybe getting fit!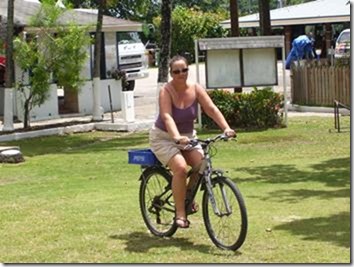 note the carrier, Chris's bike doesn't have one of these so guess who cycles 6 paces behind carrying the shopping???? However once the shopping is on board I am banned from the galley for a week while Chris does all of the cooking and washing up, bliss .......
We have worked on the genoa, Tim & Babs while they were here unpicked the old sacrificial strip and Chris had cut a new one which was sewn in place. Teak had been purchased and has been milled, shaped and polished into various items, cockpit tables and shower sole boards have been sanded, coated with resin and varnished to a high gloss, all this plus regular maintenance work and we have still managed to have some fun and see some sights around Trinidad.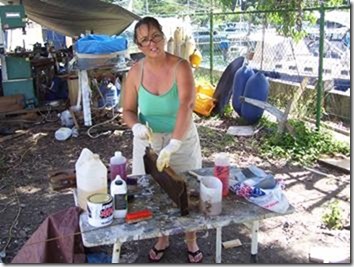 While Chris may miss the tools that I couldn't bring back from Scotland he has a great friend in Martin, Nanche, who has a complete workshop under his boat!
---