April

Sulayacht
Mon 25 Apr 2016 21:43
While circumstances dictate a longer stay in Grenada than we would have originally planned we are enjoying ourselves very much, we are doing lots of local walking, catching up with things on Quicksilver, sorting out routine medical ' checks. Watching the development of the new Marina facilities at Clarkes Court Bay, the new Chinese led development at Mount Hartman Bay, and meeting with friends, life is good. So, while waiting to hear how our order for engine sealer is going we live from day to day making no plans.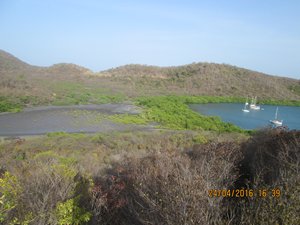 We celebrated the folks 61st wedding anniversary, not quite Headlam Hall, important people were missing, but we thought of them and sent them love on the day, Dad, will you forgive me the Facebook posting? x
Lots going on but we got a bit fed up of waiting for Sherri to do her job with the engine product, so we organised ourselves with a company who do the importing of goods for you. We ordered the product, had it delivered to their Miami address and they organise air freight and customs clearance and we collect from their office, 6 working days and we have Steel Seal on board Quicksilver. It is looking good, Chris did all the necessary and we have run the engine under load for one hour and there is no sign of water in the oil! It looks like we can put the new engine on the back burner, this is so exciting….
An empty space next door today as C Drifters depart for anchorages North, North West until FA Cup Final Day when they will be racing back for the coverage.
---