St Laurent finally

Sulayacht
Fri 14 Nov 2014 16:51
And so the rally ended on the 14th October and participants went on their separate journeys heading back for Trinidad/Tobago and we were still there along with Magic Swan when on Saturday 25th October, after a flight to Trinidad, flight onto Suriname, overnight in Paramaribo, water taxi and Gendarme escort to the anchorage, Maris joined us on board Quicksilver.
Maris's river transport.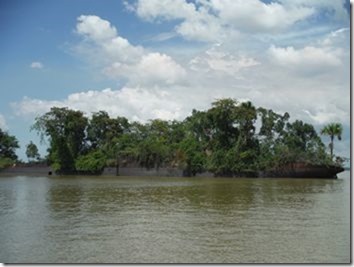 Did I say we were anchored behind the wreck of the Edith Cavell, 1898 – 1924, she was en route from Marseille to Fort de France with general cargo. After further exploration of St Laurent we took the dinghy on a trip up the river and into a creek, then visited the Leper Island Papillon wrote about in his book, didn't recognise any of it but a nice day if hot.
and following that adventure we took Quicksilver into Crique aux Boeufs Lamentins (Creek of the Manatee) and circled the 15 miles exiting at Crique Vaches, heard lots of birds saw butterflies but no Manatee ...
After a final visit to a woefully inadequate waterfall and a shop at the supermarket we say goodbye to Fred, Claude and St Laurent and head once again for Guyana.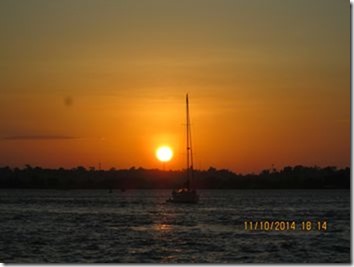 ---