17.15N 062.39W

Sulayacht
Tue 29 Mar 2011 20:55
Wednesday 23
Arrive in Major Bay, south end of St Kitts after a 90min sail, saw one large turtle on the way, nothing reported of great import in the books about Major Bay but we are challenging this! Saw the first Spotted Eagle Ray while snorkelling, went for sundowners on Balu and heard then saw the monkeys heading for their night perch,
must have been a hundred of them, all ages and sizes, then the wild goats followed, as we turned to watch the sun we saw a silver fish clearing the water followed closely by a Barracuda, all in one evening. Went to sleep very happy, awoke at 3.00am to hear an outboard motor and Thomas calling us from his dinghy, we had dragged anchor and drifted halfway across the bay. We thank Thomas and Regula for waking us and averting what could have been a very nasty experience.
Thursday, Friday 24
First light saw us move a couple of miles up the coast to Major Bay, this time our first snorkel saw us with a turtle and lobsters, proved to be camera shy but not the turtle...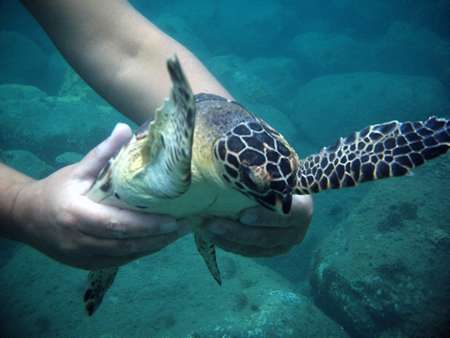 Thomas and Regula leave to go to Basseterre and the luxury of the Marina, we may follow later. After what was to be our last dive of the day we saw a dark mass of fish moving slowly into the bay Chris thought this would make a good picture so went over the side. From the distance I heard him call it was too dark, could I pick him up in the dinghy, no problem to me, collect the dinghy row sedately over and when I reached him he had actually said, 'there is a shark' ' He has the picture of the tail of the 8ft reef shark to prove the story, and we still didn't catch a fish!
Saturday 26
Now in Whitehouse Bay, another special snorkel, a southern Sting Ray about 3 ft across,
and another turtle,
it just keeps getting better. Planning on leaving St Kitts on Monday heading for St Eustatius
xx.
---