March

Sulayacht
Fri 25 Mar 2016 21:13
And so February rolls into March and after from stopping the visits to the Chiropractor and finding a wonderful massage therapist in the same bay that we are anchored in, the back continues to improve. Terri and Gus have returned to Florida we hope to see them again soon in their new boat, Tim and Babs returned to Texas to sort out a few things and will be back in Grenada in June.
Chris's view of the C- Drifters parked outside of Taffy's Bar and Restaurant, also the new marina being built in CCB, all this while he fits the new wireless Garmin wind indicator, one less job to do.
We had thought we may have moved by now but hey ho, as we went from Clarkes Court Bay to St Georges the engine slowed down and stopped, Chris discovered water in the oil, so we carried on sailing into the anchorage. Chris did an oil change thinking it was the head gasket gone, sailed back round to home anchorage, where he stripped the engine to discover it was a bit more serious… A crack in the engine block has us sourcing the supply and delivery of a new engine.
Every cloud and all that, so we are here for Sue's birthday, Irene organised a collection and was able to purchase a Samsung tablet and a few more gifts, not often you see Sue lost for words… It was a really good showing of the high regard Sue is held in amongst cruisers, and not just because of her cooking.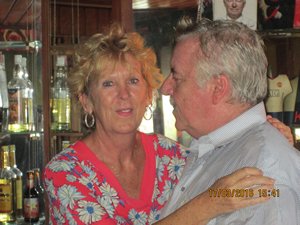 ---