New Year

Sulayacht
Tue 28 Jan 2014 15:01
And so we start 2014, with Maris departed we removed an uninvited guest from the deck, no idea where he had been living and don't want to think about it too much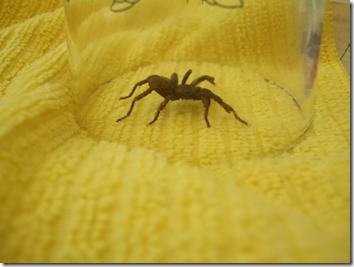 I prepare for my 'scopes' and and these are done on the 6th January, after the initial consultation with the gastroenterologist, all looks clear but with some inflammation in the stomach so biopsies are taken, and further blood tests. By the 14th January I have the all clear from the biopsy results, nothing to show but the inflammation in the stomach there is no real indication as to how or why I should have had this problem but I am only glad it is clearing and has caused no long term damage, I should be good to go in about a weeks time, so can plan our move to Grenada. Still not able to take any alcohol, I am beginning to worry I may never be able to taste Gin again ......... Thank everyone for there concern and good wishes, it is such a relief to know all is well and beginning to feel better, just underlines how unwell I was feeling.
We are going to go to Grenada and then hopeful move fairly quickly up to St Vincent, we will take bottled water and clothes, tinned and dried foods and anything else we are donated to go to the flood victims. Graeme and Joan, Karma are already there and are going to let us know what is needed, they had a very good response to the appeal they put out over the net in Grenada. We are not going to put out and appeal here in Trinidad as they have enough problems. Jesse James, has offered us all the clothes he didn't get rid of at the Christmas fair, we are collecting empty 5 litre bottles to fill with water and people who hear of where we are going are donating clothes and household goods.
Before we leave Jesse James, Cruisers Ambassador in Trinidad has a birthday and we can't have a birthday without cake!
On the subject of Cake, we celebrated our 26th Wedding Anniversary with Cake and Terry's Chocolate Orange,
thought you might like to see the Facebook posting Chris did that day: Old Romantic that he is........
"such a "Poifect Day" .Not a cloud in the sky, plenty of solar power to keep the "coldies" in the fridge, Swifts chirping in the rigging, just had a swim, shower and breakfast in the cockpit, Mango season has started and we are anchored in our own little spot in Chaguaramus. Not quite as romantic a place as this time last year but a lot warmer than the day 26 years ago at a cold, foggy, snowy, Bishop Auckland in the North East of England where two black Labradors from the Wild West coast of Scotland were getting more fuss made of them than their humans who had just got married!
Everyday since has been an "adventure" and not just because "I can't remember much about the day before". Lady Sharon (1st mate on S/V Quicksilver and best mate to me) has now got her "ticket to travel" from the hospital, thanks much to all who were concerned, so I have not got anymore excuses to stay here. After being plied with a Calaloo Soup lunch Martin is ferrying us to Pricemart to hopefully pick up an Engine start battery so that's another "excuse to stay" out of the porthole! Lady Sharon is getting worried that I am becoming too "at home" here anyway , best of all after due consideration she has consented to my request to give it a go for another year!! This is just as well as mail order delivery is not too reliable out here!! And a Very Happy New Year to all our readers and friends.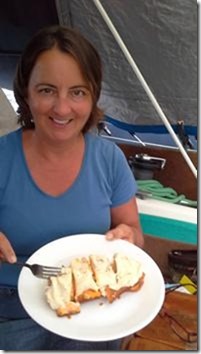 ---