Korfos, W. Aegean, to Poros Island, W.Aegean (25.5nm)

Bootlegger of Mann
Frank Newton
Sat 20 Sep 2014 15:40
37:30.40N 23:28E
Passage from Korfos to Poros Island ( 25.5 nm )
Weather: Fine. Visibility: Good. Winds: SW. Strength: 3 - 4
Crew: Frank and Jackie. Fuel: 594 litres Water: 1,000 litres Batteries: 100%
10:30 We departed Korfos anchorage after a leisurely breakfast. After clearing the bay set a course of 123 degrees. With the wind just over 20 degrees off the bow we motor sailed with a S.O.G. of 6.2 kts. (1800 rpm).
Noon. 37:40.76N 23:25.63E SOG: 6.2 kts motoring only there being just some 5 kts of wind just off bow.
16:00 37:31.38N 23:25.63E Arrived Poros. Anchored in small bay on approach to Poros town from the north.
J went in for a snorkel, to check the anchor holding, prop etc at the same time. She reported we had rope and fishing line wrapped around the prop shaft. She returned to the prop with knife between teeth. Pretty soon the prop shaft was clear, J bringing up and proudly presenting the fruits of her labours to me.
Jackie checks anchor holding and prop before going for a snorkel
We decide to not stay here for the night. We up anchor and move around the corner into Russian Bay, so called as it is said that in WW1 or 2 Russian navy ships were anchored in here.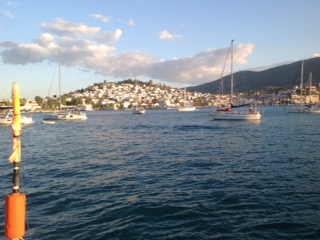 Russian Bay. Poros Island
J swam over to the land with our long yellow shoreline which she attached to a tree. There were already several other yachts in the bay similarly moored.
We ate aboard before retiring around 22:00.
-----------------------------------------------------------------------------------------------------------
---