Passage from Serafos to Milos ( 29.7 nm )

Bootlegger of Mann
Frank Newton
Mon 6 Oct 2014 07:14
38:43.50N 24:26.88E
06 October 2014


Weather: Overcast Visability : fair, Wind: light northerly 5 to 10 kts.
Livadi - Capital/Port of Serafos, with old capital on mountain in background

07:45 37:08.56N 24:30.92E. Departed Livadi for Milos. CSE: 211. With the wind such as it is up the chuff we find it necessary to tack downwind at an average speed of around 4.3kts.
15:45. 38:43.50N 24:26.88E Arrive Adamas berthing stern to on town quay. After leaving our enforced stay in Serafos after a number of days of Mentemi winds, we have arrived here in the island of Milos after an 8 hour sail in a light northerly wind that it was necessary to tack down, hence the length of time taken to get here.
The home of Venus de Milo, dug up by a local farmer when she reputedly still had arms, this horse shoe shaped volcanic island is the southernmost island in the Cyclades area of the Aegean. It's capital, Adamas where we are now berthed is a most attractive well laid out place with a quality feel about it. Took me 8 hrs to get us here from the island of Serafos, the northerly wind having now dropped right off.
With water and electric facilities at the berth, we are able to give Bootlegger a good clean and fully re-charge the batteries.
We later go out to explore the town before having dinner at a nearby restaurant and retiring.
Berthed near to us is a very noisy charter boat containing many Poles in full voice. Now gone midnight they continue shouting and singing to loud music it is necessary for me to go over and yell at them above the noise, ' Who speaks English?' 'We are Poles' came the response. 'Oh I am well aware of that' I replied. 'There are people trying to sleep, can you turn it down? ' There were reluctant nods. By the time I had got back to Bootlegger the noise had risen back to the original levels.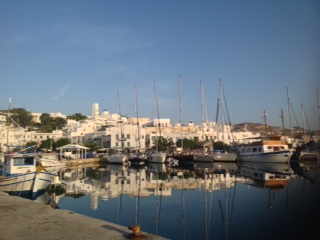 Adamas, Capital/ Port of Milos
Plan is after two days here in Milos to sail to the Greek Islands of Ios and Santorini then on to Marmaris, where I am planning to get work done. No definite timetable, that went out of the window long ago. We are just taking every day as it comes,
Getting much cooler down here now with the prevailing northerly wind. At night you now need long trousers and a fleece.
---