Trizonia to Messalonghi

Bootlegger of Mann
Frank Newton
Sun 25 May 2014 13:54
Sunday 25th May
38:21.68N 21:25.51E
Trizonia anchorage
38:22.2N 22:04.53E. We take a run ashore where we say goodbye to Chanty before taking a walk into the hinterland where Jackie is in her elements pouring over the flora and wildlife.
Later we had lunch in the Poseidon and spent a couple of hours on their WiFi.
A bit of local colour passes the Poseidon where we
are using the WiFi
I discover having sent my latest effort to the Mailasail blog that most, but not all of the pictures are inverted when they appear in the blog when viewed through Word ! It seems that whilst the iPad corrects which way around they are, when they are sent to a computer using Word a picture will show which way around the iPad was when it was taken!!! There is no way of telling on the iPad if they are incorrect – only when converted to Word. There does not appear to be any way of correcting this fault.... It is clear great care must be taken when photographing, that the iPad is the correct way around.
Dave and Michelle on 'Alhambra' arrived from Messalonghi mid afternoon.
We dropped by to see them and to wish them a good trip east.
Trizonia Beach
We returned to Bootlegger and after a dinner of very tasty pork chops had an early night as we have an early start tomorrow.
Monday 26th May
Passage from Trizonia to Messalonghi (37.5nm)
Weather: Fine Wind: 1kt Sea state: Flat calm
Crew: Frank and Jackie
38:22.2N 22:04.53E. Picked up anchor and motored out of bay and around the corner to set a course of 268 degrees.
07:00 Wind has come up from the northeast and freshened in the last few minutes . Sail out as we head for the bridge.
08:15 Passed under Rion suspension bridge: got some really good pics, hopefully all the right way up.
Passing under the Rion Suspension Bridge
09:30 CSE: 254 degrees. Good blow – some 27 -9 kts, off the starboard quarter. SOG touching 9 kts Great sail for those of us heading the right way in the Gulf today.
10:00 CSE: 262 degrees. Conditions slightly eased; still making 7 kts with reefed main and genny.
10:30 38:19.29N 21:24.92E Sails in engine on we approach the Messalonghi canal; quite a number of yachts coming out.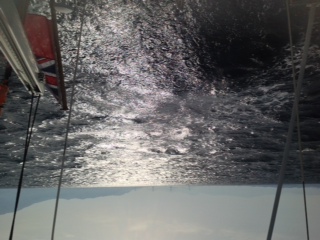 Bootlegger completes the early morning passage and re-enters Messalonghi canal
11:00 38:21.68N 21:25.51E FWE. We tie up on the port quay directly opposite the Yacht Cafe to await our new deck cushions which are due for delivery at noon.
It has been a good sail, 37.5nm in 5 hrs.giving average speed of 7.5kts.
At 13.15 upholsterer arrives at boat with no cushions but a large piece of cardboard to fashion a template for manufacture. He speaks no English so pointless remonstrating with him. We establish through a passerby with a smattering of English that he will return with completed cushions tomorrow morning at 10:00 am.
So, an unscheduled 24 hr stop in Messalonghi to further await the cushions
Tuesday 27 May
Do various housekeeping work whilst awaiting the cushions. Jackie goes to town to sort out her computer use with local service provider and to have her hair done.
Noon: Cushions arrive. Later, after delivery and settlement, noticed various errors. Called the upholsterer who said through a third party that he was now closed and to take cushions back to him tomorrow morning, (Wednesday) at 8.00 am !!! So, from picking up cushions and departing Monday lunchtime we are now into a third day !!
The port police visit the boat and ask how long we have been here and have we been to the port police office to report our arrival? I advise no as we had not intended to stop. I was advised I must do so before we leave....
Jackie still unwell conjunctivitis and sinusitis ...now starting to feel lousy myself and with no appetite, am not up for dinner. Early night.
Wednesday 28th May
08:00 After ordering a taxi and loading the cushions on its roof we arrive at the upholsterers to drop off the cushions. At 08:40 we are back aboard with the cushions duly corrected !!
Bootlegger tied up at Messalonghi town quay and right, pic of our new deck cushions
Jackie goes to town on her bike to the phone company and to do some last-minute shopping whilst I go to the port police to report our movements and intentions, they appeared totally unconcerned and took no details ...
---