Milos to Folegandros ( 45.2nm )

Bootlegger of Mann
Frank Newton
Wed 8 Oct 2014 20:57
36:36.81N 24:57.07E
7th October 2014
Weather: fine and sunny, cloudless sky and flat calm sea. Wind: F.2
Fuel: 475L Water: 900 L Batteries 100%
09:30 36:43.43N 24:26.85E Adamas Town Quay. After two nights in Adamas ( cost 42.8€ inc. electric and water ! ) we depart for the island of Folegandros. Clearly going to be a day of motoring. Our first WP is 7.2nm ahead, being the approach into the bay ( water filled volcanic crater ).
On our way out we pass Milos boat houses
in Kilm with their bright coloured doors
Above lies the villages of Thaca and Tripiti.
On reaching the WP , set course of 184 degrees, taking us down the west coast of Milos, a distance of some 9nm to the SW tip of the island. It is a hot day.
Black lava rock and white,former volcanic
dust now rock, seen together on Milos's
west coast.
On rounding the corner a new course of 93 degrees is set taking us over to Folegandros some 26nm distant.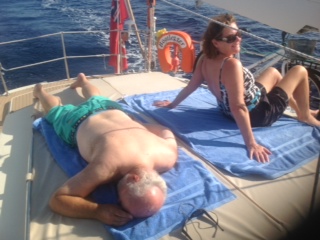 Our guests relax on Bootlegger's sundeck
as we head east
We are getting around 10kts of wind which is too light and shy for us to sail so we bear off enough to motor sail the remainder of the passage. Typical SOG 6 kts.
19:15 36:36.81N 24:57.07E Karavostasis Port, Folegandros. We berth stern to in the corner between the east end of to on the village's quay and the breakwater. It has taken us some 8 hrs of motor sailing to cover the 45.2nm from Adamas, Milas. Pretty soon the rough quay is jammed solid with boats including a Swan 70 racing cruiser called S/Y 'Flying Dragon'. A beautiful boat, I meet her professional skipper, an Italian, later in Helen's Bar. He says he believes she is registered in Gibraltar ....with PY perhaps?
Learn the forecast for tomorrow Wednesday is a NW 5. The port authority man tells me when I visit to pay our overnight fee ( 17.40€ with no electric ) that this place is not good in such conditions and to get ourselves over to Ios. I assure him that is where we are going first thing tomorrow.
After the harbour office we visit the nearby small bar run by Helen, who hails from the New Forest in Hampshire and who was once a croupier she tells us.
We later eat aboard in severe chop as the wind inreases sharply that makes our overnight stop a very uncomfortable one as Bootlegger is jerked backwards and forwards to loud creaking of lines and fenders wedged in as we are like sardines. This is all due to a charter boat with twelve Russians aboard that came into a full quayside and just drove astern alongside us where there was no space, progressively wedging themselves in whilst we were in Helen's bar. Both sets of fenders between us were severely flattened and, with the chop and constant boat movements, squealed loudly. My protestations were ignored by them. They were going nowhere.
---