From Licata to Siracusa 7 to 12 August 2013

Bootlegger of Mann
Frank Newton
Mon 12 Aug 2013 15:55
Wednesday 07th August: We have a pleasant and uneventful flight back from the IoM to Sicily's eastern airport of Catania via Dublin with Aer Lingus. We arrived at 19:30 hrs. There followed a two and a half hour bus journey to Licata where we finally arrived at 22:30 hrs. We walked from the bus station to a marina full of people - Ferragosto has arrived ! After a well earned drink and a light bite we returned finally to Bootlegger which lay bobbing off the pontoon exactly as we had left her.
Thursday 8 to Saturday 10th August :
16:30 37:05.N 13:56.72E, Licata Marina, SE Sicily.
These days were spent sorting various things out on the boat, and shopping in this pleasant old town particularly at its little hardware store which was crammed full of everything you might ever need.
Sunday 11 August
Passage: Licata to Ragusa ( 37.9nm )
Crew: Frank & Jackie
Weather: fine and sunny; Wind: W20 kts Batteries: 100% Fuel: Almost full tank; Gas: Two full bottles ( refills obtained in marina )
10:50 37:05.N 13:56.72E, Licata Marina: With a strong cross wind slipped our berth and headed out of marina and outer harbour into a turquoise open sea stirred up by the 30 + kt winds of the preceding couple of days.
Set a course of 129 degrees putting out full genoa and mizzen sails, leaving main put away as it would only shield genny. Soon with strengthening winds off the starboard quarter we were storming along, achieving speeds in excess of 8 kts. It was a great day's sail which was made all the better when we slowly reeled in and finally overhauled a French yacht who had left the berth opposite us in Licata half an hour before us.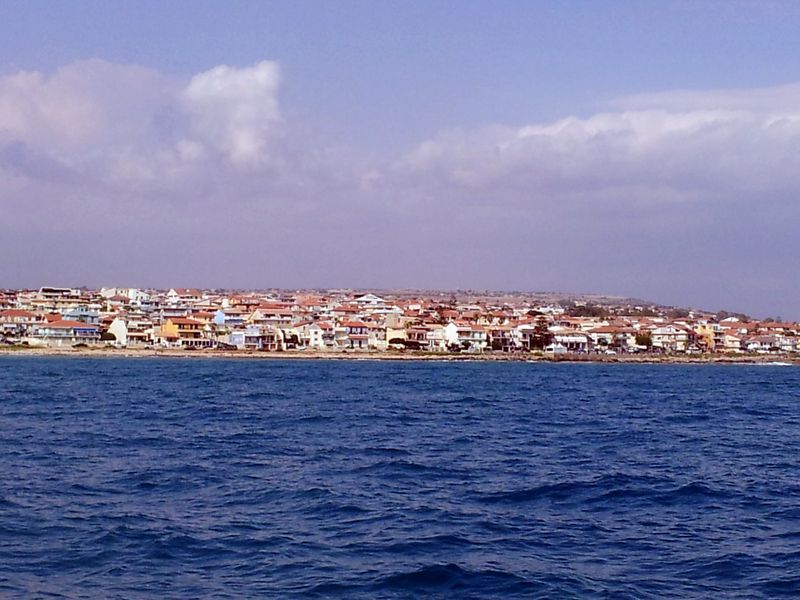 17:15 36:46.81N 14:33.169E Arrive Marina Ragusa. Drop anchor off eastern mole in a little over three metres of water. Some forty five minutes later our overhauled Frenchman finally appeared and slipped into the marina on the other side of the mole.
This is a beach resort and port for the old Baroque town of Ragusa some 3km inland. The nearby beach is black with people. Soon we are joined by two other yachts, another ex Licata Australian flagged Bavaria 39 and a smaller French registered boat that came in from the east.
J did a most tasty supper which we had at the cockpit table before retiring to bed tired and happy. A good day
Monday 12 August
Marina Ragusa to Syracuse, east coast of Sicily ( Est.DTG 50nm )
Fine morning; very light easterly wind. Sea state: calm
05:45 36:46.81N 14:33.169E Marina Ragusa. After a very rolly night on anchor requiring one move at 03:00 we are anxious to lift anchor and get on our way at first light. With what wind there is almost on the nose we motor sail across to SE corner of the island.
11:00 36:38.549N 15:07.105E Turning corner in SE tip of Sicily to head north to Siracusa.
Noon 36:41.67N 15:09.84E Off Cap Passero as we start to head up the east coast to Siracusa. CSE 22 degrees
15:00 36:57.7N 15:12.8E Fontane Bianche bay. Joined several visiting yachts, motor cruisers and local day fishing boats at anchor. Lazy afternoon after a swim snatched some much needed sleep after the rolly night at Marina Ragusa.




19:00 37:03.57N 15:17.22E Drop anchor in Siracuse's enclosed southern bay. It certainly has the wow factor. We are stunned by the beautiful waterfront its fine stone buildings bathed in the evening sun - a golden hue reminiscent of the waterfronts of Venice. In terms of sailing, not as good a day as yesterday as most of the miles covered today were done motoring. Distance done today: 48.8nm. Since leaving Licaa marina yesterday lunchtime we have done 86.7nm in total.


Plan is to drop the dinghy into the water tomorrow morning and go ashore to shop etc . In the meantime J prepares a dinner that smells, as usual, delicious

.


---