The Journey East - Barcelona to Menorca

Bootlegger of Mann
Frank Newton
Sat 8 Jun 2013 10:41
39:59'44.02"N

3:47'38.27"E
Summer 2013 – The Journey East
Saturday 08062013
41:26.06N 02:14.546 17:15
Barcelona (Badalona), Spain to Menorca, Balearics (Passage 108 nm to northern Cala Fontanelles)
Fuel 600 litres. Water 1000 litres. Gas 1.and a bit bottles
Crew: Frank and Jackie
17:30 : 41:25.370n 02:15.6 E Badalona Marina. After settling up with everyone departed marina. Set ¾ mizzen, genoa and main; turned engine off after clearing harbour entrance.
18:00 Conditions: Wind 20-25kn, SSE, sunshine, good visibility; hreatening clouds ashore, north of Badalona, speed over ground ( SOG) : 8 kts DTG: 108.1 nm
ETA :07:45
20:00 : 41:10.96N 2:33.432E. Wind dropping off; now just 11 – 12 kn 83 degrees; SOG: 7.7 kn DTG: 91.2nm ETA: 08:10. J asleep below; due to take 9 -12 watch.
Beautiful evening / conditions perfect!
21:00: 41:05.23N 2:39.873E Wind 12.7 ( T) J comes on watch; nothing around but cruise ship Sovereign en route to La Goulette - wherever that is! Called him up for radio and radar check. He never replied.
Sunday 09 June 2013
00:00 40:48N 3:00E Frank's watch. Jackie reported that whilst the plotter was covered in AIS 'wedges' she had only been able to sight one ship during the three hours of her watch as all more than 5 nm away from us. Otherwise a beautiful starry night; wind ESE 12 kn; SOG 7.1 kts DTG:60 nm ETA 08:30. Heated chicken stock Jackie had prepared whilst still in Barcelona for us both before settling down to my watch.
01:00 41.57N 3:07 E With DTG 53nm and boat speed dropping to SOG 6 kts with lightening wind; passed yacht heading WNW direction some mile off starboard beam. Otherwise very quiet.
01:45 With 49.5 nm to go and wind down to 8kn and SOG just 4.5 kn decided to motor sail bringing in most of genny. With an engine rpm of 2,100 soon back at 7.3 kn.
02:00 40:37N 03:13E Spot targets ahead on radar; believe to be fishing boats
Engine 2100 rpm giving SOG: 7.4 kts
03:00 Jackie takes 3 – 6 watch


04:00 40:28.0 N 03:25.83 E Light of Pollensa / N Majorca clearly visible on starboard. DTG: 34 nm, ETA 08:30
05:35 40:20.06 N 03:37.01 E Had to correct bearing to 142 as drifted off route. Wind 12 kt from SE, i.e. on nose). Had to roll in mizzen as cannot bring boom to centre of boat due to sheet fouling with dinghy.
06:00 Frank takes watch. Found SOG 5.4 kn. Motoring only now, increased engine rpm to 2,200 bring boat speed back up to
6.5 to 7.00 kn. Wind on the nose and back up to 20 – 25 kn. Grey heavily overcast morning with red dawn and precipitation.
Back at sea!
09:00 40:02.929N 03:54.945E Arrived at Cala Fontanelles being one of a number of anchorages in this north west bay of Menorca which was hosting a dozen or so other yachts of various sizes.
Soon secured anchor, followed by a Sunday full English breakfast with mugs of strong breakfast tea. Shattered after our long night we retired to our bunk where we did not awake until 14:00 hrs. Dying for a swim, J found the sea too cold for her.
We had planned to spend the night on this anchorage but learn from radio that wind is due to veer from south to north easterly direction meaning we have to get out of here as soon as possible.
Plan now is to go around to the west of the Island and in to picturesque Puerto Ciutadella, the Island's former capital where we shall be assured the necessary shelter.
After a very tasty salad of chick peas, tomato, pepper, tuna, onion and garlic we prepared the boat for sea.
17:00 Lifted anchor and headed westward around corner and down to the ancient port of Ciutadella.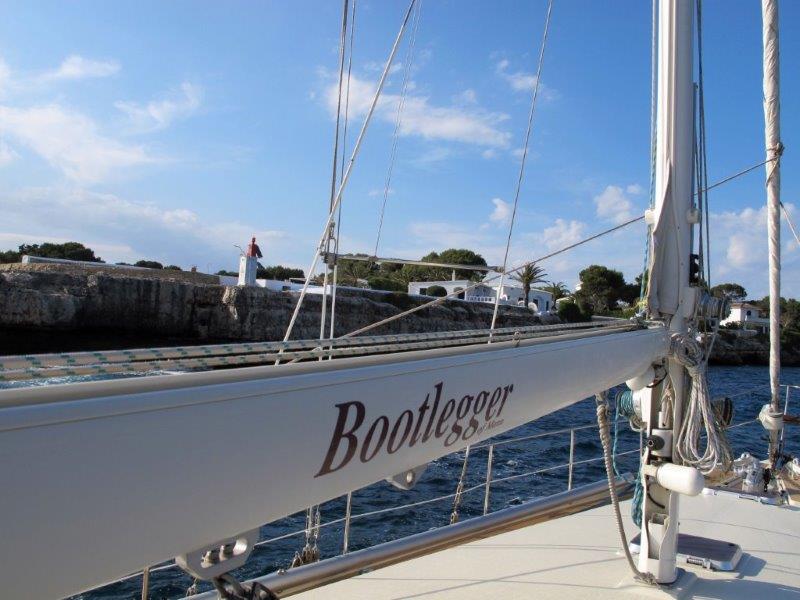 Bootlegger arriving at Ciutadella
18:45 39:59.927N 03:49.74E Ciutadella. FWE. Moored stern to on outer yacht club berth at a rate of 87 Euro all inc. Does not include cost of replacement bow thruster prop which was fouled by pick up line that was far too short for Bootlegger.
Met Murray and Lynn from New Zealand with their new Hallberg Rassy,'Birgitta', who helped with our moorings and later joined us for a drink. They are broadly headed where we are going having also come down from UK a little after us last year and wintered in south Barcelona's new marina where they paid € 3,000 for the winter and were well looked after
Went for walk around this very old and charming town exploring its many streets before returning to the harbour where, whilst having tapas at a quayside restaurant we spotted 'Pure Magic' another Amel SM 2000 from Howth, Dublin. Owned by Peter and Bev Killen who later came along and chatted with us. The last time I saw her was when Bootlegger was alongside her in Howth shortly after Peter's return from the Antarctic and shortly before Bootlegger's departure for the Caribbean in 2007. She looked very well. Small world!
Ciutadella
---