Messalonghi to Trizona - need iPad to view pics correctly. Sorry. Apple error

Bootlegger of Mann
Frank Newton
Sun 25 May 2014 10:09
22 May 2014
38:22.092N 22:04.536E
Maiden Passage of the 2014 Season: Messolonghi Marina to Trizoniaisland, Gulf of Patros ( 36.2 nm to the east )
Weather: Fine and sunny; hazy visability Wind: westerly 2kts Sea state: Calm. Temp. expected 28 – 30 degrees
Fuel Tank: Full (600L)
Crew: Frank and Jackie
10:45 38:21.660N 21:25.028E After visiting the marine police to do the necessary paperwork to check out of Messalongi and settling up with Maria in the marina office, we bade farewell to those final few people we had missed yesterday and, after loading our recently acquired bikes, slipped our mooring and headed out of the marina. I set a course of 181 degrees that takes us down the narrow buoyed 3 nm channel into the Gulf of Patras.
Departing Messalonghi down its long access channel
In view of the hot weather expected later we decide to keep the canopy andbimini extension in place.
We have repositioned the tender to the forward coach roof. Great in many ways, but I find it impedes forward vision when forced to sit at the wheel rather than stand giving me uninterrupted vision which I am unable to do due to the low height of the canopy.
On entering the Gulf we alter our course to 115 degrees. With virtually no wind we continue on our new easting course on motor only. SOG: 6.5kn 1800RPM
We make contact over the radio with friends from Messalonghi, Chris and Jane Cooke who are coming the opposite way from Trizonia in their 32' drop keel yacht 'Dragonfly' which they had brought into the Med through the French canals last year. They report they are pushing over one knot of current slowing their progress to the west.
13:00 38:17.875N 21:37.373E We rendezvous with Dragofly. After exchange of news and general information and the taking of pics of each other, we bade them both a fond farewell and fair sailing until we see each other again in a few weeks time in Kefalonia and resumed our course east.
Rendezvous with Chris and Jane on Dragonfly in the
Gulf of Patras
14:30 38:18:402N 21:46.67E We arrive at the approach to the amazing Rion Bridge, the longest suspension bridge in the world. Even though barely any traffic passes under it one is required to radio Rion Traffic on ch.14 to obtain permission to pass under it providing full information on the vessel and of course, in particular it's overall height. Bootlegger's 19m height passes easily beneath with plenty of space to spare. Even so, I found myself involuntarily slowing Bootlegger right down as we passed under it – just in case. The illusion one gets when viewing the mast and the approaching bridge is that there is no way you will clear it.
Approaching the Rion Suspension Bridge - the longest
of its kind in the world.
After passing under the bridge I set a new course of: 78 degrees, SOG 6.4kts, DTG: 17nm.
16:45 38:22.092N 22:04.536E FWE. Arrived in Trizonia and dropped anchor in the outer harbour anchorage between two Breton yachts, one monohull, the other a cat.
Bootlegger seen approaching Trizonia and later anchored
We note the inner harbour quays are quite full of yachts including at least two former neighbours, one of which is a South African self build called 'Chanty'owned by Craig and Carol Middleton who befriended us in Messalonghimarina and who had departed for Trizonia some hours ahead of us taking a quayside berth.
Small world. Turns out Craig and I both have a shared acquaintance in the form of another South African and sailor, Johnny Kipps. Craig and Johnny it seems were at school together. Johnny and wife Juliette are now close neighbours of ours in Castletown.
We sat and soaked up the warm sun in the cockpit sipping at our mandatory G&T sundowners following which I have cooked a chicken stir fry prepared by Jackie who is feeling flu-ish and is under orders to rest.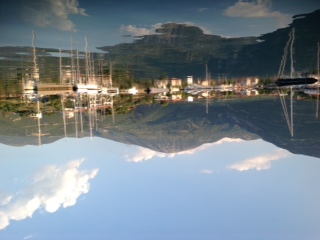 Trizonia Harbour with Bootlegger at anchor (top right) with our South African friends seen departing
in their self build yacht 'Chanty'.
Our first passage of 2014 had taken us exactly six hours as the sail plan had initially indicated. With an average speed of 6.3kts we had consumed some40 litres of diesel in this 37.2 nm 6 hr passage. A 6.8 litres per hour average running at some 2000 rpm – which is high. Normally we consume some 4.5 L per hour.It is always possible that the fuel tank was not full when we left as I thought. Tank currently shows some 540 L of fuel.
All in all, our first sail of the season.has proved a good and successful day,
Friday 23rd May
Trizonia anchorage.: A fine, still sunny morning without a breath of wind. After breakfast we drop the tender in the water and, after loading iPads etc in the waterproof rucksack we go ashore.
After having a cheery exchange with Martin from Wales in'Nimble' his 31'Beneteau, and nearby Craig and Carol on 'Chanty'we walk around the harbour in search of a tavern with free WiFi.
Along the way we see work had taken place to make the harbour a proper marina facility with electric and water pillars etc, but work had stopped presumably due to a lack of funds. We pass many seemingly abandoned vessels that have clearly not been to sea for many years, some could be described as hulks, all lying alongside the quaysides taking up valuable berthing space. There is no charge for berthing here. So the facility is being exploited to the detriment of Trizonia and the many wishing to enter and stay in the port and use its restaurant and shopping facilities, but who are denied the opportunity due to lack of space. I think the owners should be served notice to remove them otherwise the port authority should tow them out to sea and sink them!
We find the Poseidan, a taverna recommended to us where we have a drinkwith Craig and Carol who joined us. They tell us they are leaving tomorrow to continue their journey east and into the Agean.
We later had a very nice, but not inexpensive lunch at a waterside table of thisdelightful taverna which commands magnificent views across the water to the mainland from which a small passenger ferry plies two and fro to this small picturesque fishing harbour, disgorging a handful of people each time.
The Poseiden Taverna where we had a most enjoyable
lunch with most beautiful views
On returning to 'Bootlegger' we took a siesta to be later awoken by a knock on the hull, Turned out to be Alberto, the owner skipper of 'Orange' another AmelSM2000 who just stopped by in his tender to say hello. We first met him last year with his wife Paula. They have almost completed a circumnavigation of the Peloponnese Peninsular in an anticlockwise direction having just transited the Corinth Canal and are on their way back west to Messalonghi at the end of their holiday. It was nice yo see him again. A nice couple.
We had a couple of games of Backgammon with our sundowners before retiring below for this evening's dinner as it has turned chilly with the increased NW wind. And so to bed. Plan for tomorrow is to visit mainland on that little ferry and hopefully visit Delphi..
.
Saturday 24 May
Trizonia Anchorage: The morning brings a freshening west to NW wind that later produced gusts up to some twenty plus knots. The two Breton neighbours, the cat and the monohull have gone, presumably east We stay aboard doing various chores all day. A German yacht comes in late afternoon and joins us on the anchorage whilst several others arrive and go straight into the harbour. In the evening we go ashore where after disposing of our garbage we assist a new arrival, an elderly looking couple in a small yacht, in tying up on the harbour's outer mole. Turns out they are Fred and Carolyn from Strangford Lough, N.I. In their 27' Benteau 'Fantasia VI' who have just arrived from Messalonghi. We later meet up for drinks and dinner at Posedon's. They were amazed to learn that Bootlegger was an ex Strangford and specifically Ringhaddy yacht, previously owned by Sir Dennis Faulkner and known as 'Moss Rose'. We chatted about Irish Sea and Med sailing and of the many people we both knew. Small world.
Sunday 25 May
Go for a walk on the island where Jackie is able to discover and enjoy the abundance of flora and wildlife.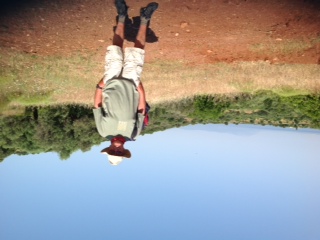 ---