Passages from Vathi to Fiscardo, to Varthi, Eufemia and to Foci Bay, Kefalonia 30th May to 12 June

Bootlegger of Mann
Frank Newton
Thu 12 Jun 2014 17:17
Friday 30 May
Passage from Vathi, Ithaca to Fiscardo, Kefalonia northbound route ( 17nm )
Weather: bright and sunny. Winds: Fresh northwesterly 5 to 6
Crew : Frank and Jackie
16:30 Hrs 38:22.37N 20:42.91E Vathi Mooring. We slip our mooring lines and head off out of the bay and channel into open sea on this 15.5NM passage from our present position on the east coast of Ithaca around the top of the island to the NW and into the channel separating the islands of Kefalonia and Ithaca to our destination of Fiskardo.
We get the opportunity to sail rather than motor, always a pleasure. The last half of the passage we are achieving some 8 plus kts as we lay Fiskardo on a nice reachi. Off the port we are joined suddenly by a fast rib.Its occupant turns out to be Kevin, a local boat photographer. He circles the boat snapping away ( pity the Mizzen is prevented by the Bimini from being brought out ..)
We enter Fiskardo and attempt to berth off the quayside but with a strong crosswind it proves too difficult so we retreat to a nearby anchorage in well protected Foki Beach bay.
38:27.13N 20:34.69E Foki Bay. At anchor. A beautiful bay, it could be in Canada with all the fir trees that rise up from its shores all around encompassing it.
We later go ashore in the tender which we beach and secure before walking up to a nearby taverna from where we call a taxi. It is driven by Vangelis, a lovely local character who seems to know everybody and everything in the area.
That evening we had a good look at Fiskardo which is a pretty spot with many nice restaurants and attractive clothes shops, its quay sides lined with mainly small yachts due to the shallow depth of the water. We hear many English voices and few other. It is easy to see why Fiskardo is known as the Englishman's St Tropez. We wander into a chandlery where the first thing we see is a Manx flag sat prominently on the counter. The owner explains he had a Manxman visit his shop who complained that of all the courtesy flags on display there was no Manx flag. He had quickly put that right. He added our boat card to the flag to enhance the display.
After eating we returned with Vangelis to Foki Bay and to Bootlegger.

We spend a couple of days in Foki Bay with the odd visit to Fiskardo to look at possible venues for my upcoming birthday celebration on the 1st July.
Sunday 1st June
Foki Bay is a lovely spot and we enjoy the cypress woods, old olive trees and many birds. We meet a shepherd leading his 200 goats up the mountain.


The forecast for the next few days indicates strong easterlies up to Force 9
Not good for the normally well sheltered Foki Bay open only to the east.


We up anchor and sail back to Ithaca and Vathi where we anchor off the town quay for the night just before nightfall.

Monday 2 – 4 June
We look across at the northeast quay which should be well protected from the coming onslaught. It is empty. We move over and tuck ourselves tight into a corner with spring lines, ready to face the elements. We are soon joined by other boats seeking shelter. We have the best spot – early bird etc.
stormy weather arrives with delay as we lye well sheltered making regular visits to town on our bikes. We watch the spectacular flying water over the white angry sea funnelling into the harbour. Wouldnt like to be out in that.
Vathi harbour viewed from our north east quay sheltered berth
Thursday 5th June
Jackie's Birthday ! We have a nice day joining up with Austrian friends Günter and Trude from 'Second Lady' for dinner.


Happy Birthday Jackie! A late night drink to finish off the day of
Celebration in a local bar
Friday 6th June
Passage Vathi, Ithaca to Ay. Eufemia, Kefalonia ( 17.5nm )
Weather: Fine, clear and sunny. Wind westerly 3 - 4
Crew: Frank and Jackie
08:00 A much better day with the wind and seas once more settled we depart Vathi, Ithaca and motor sail down the east coast of Ithaca before turning west
and crossing below the Ithaca – Kefalonia channel over to Ay. Eufemia.
We sight 'Second Lady' to port leaving the port of Sami which they have just visited and are soon welcomed by a school of dolphins playing around Bootlegger's bow wave for enough time to catch them with our camera.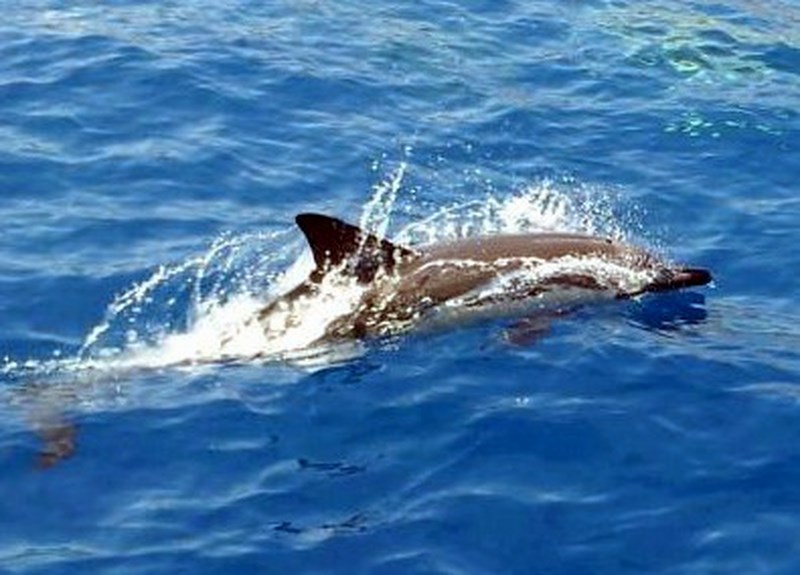 11:00 38:18.17N 20: 36.00E Arrive Ufemia quayside where we moor up stern on mooring 33 - right by the port office kiosk.

.
Ay Eufemia Port from the mountain road
The harbour keepers are most helpful with our lines and information.
We get into light conversation with a family from Leeds on a charter yacht berthed next door to us. Turns out the father works for my old company, NG Bailey Organisation. Used to work for Bailey subsidiary Woolman's as I did, knew all those I knew etc etc. He joined the company after I left. Tells me my old project manager Dave Turner still works for Bailey's! I asked to be remembered to him. They are just leaving the boat after a week's sailing to return to Leeds.
This is a good harbour with water and electric facilities, the first we have found since leaving Messolonghi! It has a pleasant bustling waterfront and adequate restaurants and shops. The harbour officials, as mentioned above, are most friendly and helpful. Nice place.
We have decided to hire a car and to drive up to Fiskardo for a belated Birthday dinner for Jackie.

Birthday Girl - June 5

This has been delayed due the storms and our hasty relocation to Vathi. Part of the road system is closed following the earthquake in February so we have to take a circuitous route there on narrow twisting roads over the mountains and along coastal cliff roads with great drops to the sea from the edges.

View of Ithaca as seen from Kefalonia coast road

If the road in daylight was 'interesting', the return in the dark was much more so.
It turned out to be a nice Birthday meal accompanied by a fabulous sunset.
An enjoyable day.
Saturday 7th June
We still have the car and so drive to the island's capital, Argostoli some thirty odd miles away on difficult, poor roads, to view and to do some shopping.
A nice town with a good feel, it is much larger than we had expected with all the facilities one wishes for. It has a nice main shopping street which is a bit like Strand St back home, pedestrianised. We find this bustling town centre apart from the locals, full of English people. The town like the island has a colourful history. It has been invaded and occupied by the Venetians and later the Romans, by the Turks. Russians, French, British, Fascist Italians and Nazi Germans.


We take a walk on the Drapano bridge to see the obelisk dedicated to the British Empire present in Argostoli in the early 19th century for more than 50 years.

Whoops ! Time to lose some weight !
Unfortunately we were too late for the Museum which was closed when we found it.
Hopefully another day.
One of many Sea Turtles seeking out its nesting ground in Argostoli harbour
We returned to Ay. Eufemia via the port of Sami which we visited to view its facilities. Whilst the marina wasn't particularly good, the port has a nice feel to it and it seems to be well served with nice quayside restaurants.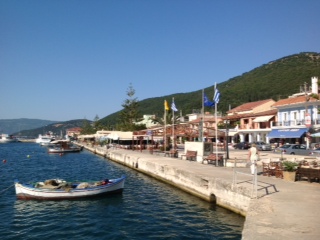 Sami Hinterland of Kefalonia
After chatting with some of the boat owners along the pontoon we drove back to Bootlegger in Ay. Eufemia.
Sunday 8th June
Again drove the 30 miles or so over the torturous roads to Fiskardo to meet up with friends Chris and Jane Cooke on 'Dragonfly' who have sailed across from Lefkas with their daughter Rachel and a friend, also called Rachel. The two girls are both working in Lefkas for the summer as a Physiotherapist and Nanny respectively.

The Dragonfly crew pictured aboard in Fiscardo

It was good to see Chris and Jane again and to catch up.
Sadly the time was suddenly up as their time had come for the sail back to Lefkas and some threatening clouds appeared.. We bade them all farewell and a safe crossing. Shortly after their departure we had a heavy thunderstorm with a lot of rain. We did not envy them being out there.
We had hoped to keep the car an extra day to enable us to return to Argostoli but a phone call from the car hire company asking where the car was and no we couldn't have it for another day put paid to such plans. The car was returned at 20:00 hrs this evening.
Monday 9th June
Ay. Eufemia Quay: It is Pentecost Monday and a national holiday. With most things closed we stay aboard and tick various items off our "to-do list".
Tuesday 10th June
Ay. Eufemia Quay: We return to Argostoli by bus to visit telephone/tablet and iPad sim card provider for top ups, do some shopping and visit the interesting small, and rather stuffy Museum. We also go to see Günter and wish Trude a happy birthday, who are here on 'Second Lady. We wish them fond farewells and good sailing as they are shortly to leave for the Peloponese Peninsular so we are unlikely to see them again this summer.
Wednesday 11 June
Ay. Eufemia Quayside 38:18.17N 20: 36.00E. A hot cloudless day with no wind. We decide it is time to move back up to Fiskardo to finalise matters for the birthday week. We settle up for the week's mooring - €119, including electricity and water, say goodbye to the harbour controller, Georgio and Makis and head out of the harbour setting a course of 62 degrees. As we move into the Kefalonia/Ithaca channel and onto a course of 359 degrees we encounter 15kts wind from the north - on the nose!
We call into the bay of Ormos Polis on Ithaca en route to see of any possibility of an overnight anchorage but it is quite crowded and one flotilla with 8 boats is still due to arrive..
17:00 38:27.13N 20:34.67E Foki Bay We arrive here to find two charter yachts and two cats already at anchor. We manage to find a space to drop the hook. We are staying aboard this evening ; Jackie is producing a tasty dish from leftovers. We confirm to the restaurant chosen for the 1st July and notify the other that we will instead be all having lunch with them on the 2nd July.
Kevin the photographer called by to say hello.
The two charter monohulls departed leaving the bay to us and the two cats.
It is a full moon with absolutely no wind. You could hear a pin drop a mile away if there weren't the nightingales..
Jackie's meal which we had at the cockpit table was delicious - rissoles similar to the Sicilian Arancini, containing risotto with saffron, peas, bacon cheese and onion. We washed them down with white wine.
We had an early night and were soon brought out of our slumbers by the loud singing of clearly inebriated, happy Russians as they returned from ashore in their tender to one of the two cats anchored in the bay. After, it quietened down we were soon asleep.

Thursday 12th June
38:27.13N 20:34.67E Foki Bay anchorage. The two cats left the bay around 10:00 hrs being replaced by one monohull.
We spend this very hot day aboard catching up with the blog etc.
---