Passage from Foci Bay, Kefalonia to Messolonghi, Greece (42.5 nm)

Bootlegger of Mann
Frank Newton
Thu 11 Sep 2014 21:21
38:21.65N 21:25.60

11th September 2014
Passage from Foci Bay, Kefalonia to Messolonghi, Greece ( 42.5 nm )
Weather: Fine but cloudy with reasonable visibility. Wind SSE 5 - 10 kts. Thunderstorms expected
Crew: Frank and Jackie


38:27.14N 20:34.685. Foci Bay
10:30 After saying goodbye to local yacht photographer and friend Kevin Jones who came around from Fiscardo in his RIB to see us off, we lift anchor and slip out of our beloved Foci Bay, possibly for the last time. Turning south down the Ithaca Channel on a course of 145 degrees we have the wind right on the nose, finding ourselves once again motoring.
11:45 The wind soon drops off to nothing with some 4.5 nm to go down this 11nm channel.
Noon 38:21.20N 20:40.67E Wind picking up to 15 kts on the nose.with 2.7 nm to channel exit and change of course west.p
12:30. 38:17.93N 20:42.89E arrive and clear bottom of channel.
Set a new course of 91degrees. With wind still just 20 degrees off our starboard bow, we continue motoring at 1800 rpm. TTG 6 hrs.
1300 Go off wind a little, setting course to 81 degrees in order to sail the boat. After two and a half hours motoring we cut the engine after pulling out main and genny and setting them tight in for a close reach. We are achieving a SOG of around 5 kts, but we are sailing at last. It is a joyous experience. We have both missed it so much.
14:00 Our pure sailing is short lived. With a lightening of wind we are down to 3.5kts. Sadly the donkey is brought back into life. Motor sailing with an rpm of just 1000 rpm we are now cruising at 5.5 to 6.0 kts. Later the wind backs allowing us to return to our required course of 91 degrees.
J prepares a tuna salad lunch followed by homemade chocolate mouse into which she had secreted green grapes to ensure I got my dailiy vitamin and sugar quota. All very tasy.
38:16.60N 21:05,95E NW we reach the southern tip of Oxia Island - just off mainland Greece, where I set a new course of 80 degrees which will put us at the first buoy of the long and narrow buoyed channel into Messalonghi
As the afternoon progresses the wind backs and freshens, enabling us to return to the delight of pure sailing, achieving around 7 kts average, as we are increasingly pushed along from the starboard quarter, the rushing noise of a rolling wave as it approaches and passes under us from that quarter, reminding us both of those Atlantic crossings.
18:00 38:18.97N 21:24.84E Arrive first Messolonghi channel buoy. We follow a Dutch yacht down the channel and thirty minutes later we are tied up alongside the outer side of the marina's pontoon one.
18:30 38:21.66N 21: 25.08E FWE Pontoon One, Messolonghi Marina. There is a heavy atmosphere, with the sky darkening, heralding the approach of the promised thunder storm.
After securing Bootlegger well and clearing the cockpit in anticipation of the expected wind and heavy rain we go ashore to see Maria in the office and Dimitri in the bar. They are both pleased to see us. Some time later our old Italian friend Marco arrives and joins us for a drink and catch up. He is a nice guy who it is always a pleasure to talk to.
Later, now dark, there are lots of rumblings and distant fawk lightning flashes, heralding the arrival of the thunderstorm over Messolonghi. We rushed back to the boat where we retreated below as the high winds and heavy rain came in.
Very tired after the long day we crashed around 21:00.
Bootlegger enters Messolonghi channel behind a Dutch yacht passing the colourful homes to starboard
Passing down Messolonghi Canal. Arrival Messalonghi Marina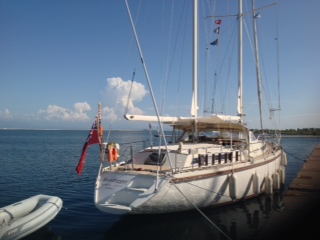 Bootlegger berthed on number one pontoon, Messolonghi Marina
---