Passage from Trizonia to Galaxidi ( 21.4 nm )

Bootlegger of Mann
Frank Newton
Mon 15 Sep 2014 11:55
38:22.60N 22:23.265E
15 September 2014
Passage from Trizonia anchorage to Galaxidi ( 21.40 nm )
Weather: Fine, clear skies. Visibility: hazy Wind: none Diesel: 500 litres Water 665 litres
Crew Frank and Jackie
07.45 depart Trizonia anchorage
With no wind increasing to 3 or 4 kts on the nose we motor at 18 kts up to Galaxidi on this fine morning.
11:00 38:22.60N 22:23.265E Arrive Galaxidi quayside, mooring stern to. We are helped in and welcomed by Atanasios, the harbour master and former ship's captain and Andreas, the diesel fuel tanker man and general help around the harbour. Nice people who cannot do enough for us. We have a light salad lunch at Liberty's a small taverna opposite us on the quayside. The lady proprietor is very friendly and the food OK. First impressions of Galaxidi - a delightful little spot. With its long narrow harbour Galaxidi is a most picturesque Greek port/ village with oodles of charm. A lovely Greek Orthodox Church sits atop the village buildings completing the picture.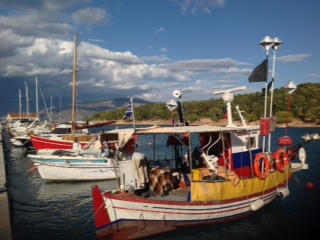 Galaxidi Harbour. Bootlegger moored below and to right of church.
After lunch we catch up with various paperwork before taking our bikes to explore the place. Later we have dinner at Zygos restaurant located at the seaward end of the harbour which we find to be almost full on arrival managing to get a nice balcony table overlooking the harbour. This was the top rated restaurant by Trip Advisor in Galaxidi. We were not disappointed. The food was excellent. We got into conversation with the couple on the next table which became a heavy debate between she and I on the Scottish independence issue, she being a Scottish former head teacher who wanted independence. Her husband, an Englishman, agreed with every anti English sentiment she expressed. The word Whimp came to mind.
---