Passage log from Messolonghi to Trizonia, Gulf of Corinth (39.5 nm)

Bootlegger of Mann
Frank Newton
Sat 13 Sep 2014 22:06
38: 22.027N 22:04.55E
Saturday 13th September
Passage from Messonlonghi to Island of Trizonia, Gulf of Corinth ( 39.5 NM ) en route to Corinth Canal
Weather: Bright, sunny, clear skies. Visibility: hazy. Temp: circa 28 degrees. Sea state: flat calm Wind: None
Crew: Frank and Jackie. Fuel: 520 litres. Water: 700 litres
Noon. 38:21.20N 20:40.67E Messolonghi Marina, Messolonghi. After doing some shopping and a few other things in town Saturday morning, we loaded our bikes aboard, brought the shore supply cable in etc, before slipping our pontoon mooring and heading out to the buoyed channel, where a course was set of 180 degrees - due south, down the channel.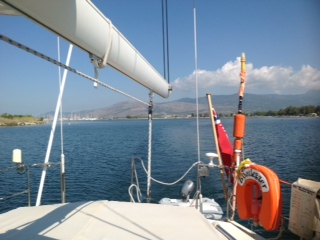 Departing Messolonghi and entering channel to sea
After clearing the channel entry buoy, the course was set to 118 degrees to take us to our next WP, the Rion Suspension Bridge. With absolutely no wind we continue to motor on a flat calm sea with hazy visibility. During the Summer months this sea condition is normal for the morning after which a westerly wind builds throughout the afternoon and early evening get up to 30 plus kts at times.
As the Rion Suspension Bridger us to becomes visible some 8.5nm ahead there is sufficient wind to roll out the genny but not enough wind for pure sailing. We drop the engine revs to 1,000 rpm and achieve a motor sailing speed of 7.4kts.
Five miles off the bridge we radio ' Rion Traffic' on channel 14 to advise of our approach as required, and to request instruction as to which point should we pass under this, the longest suspension bridge of its kind in Europe.
Having done this we are told to again radio in when we are just two miles off for final instruction. We do so and are required to give our boat name, height of mast, where we are going, where come from, how many persons on board etc.
15:00 38:19.062N 21:46.54E Rion Suspension Bridge: We are told to pass through between the bridge's second and third supports. We now do so as a freighter overhauls us as we reach the bridge, passing under its centre.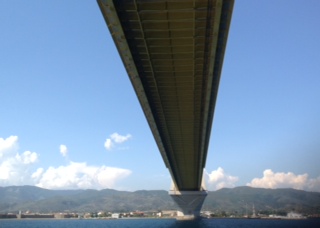 Passing under the Rion Suspension Bridge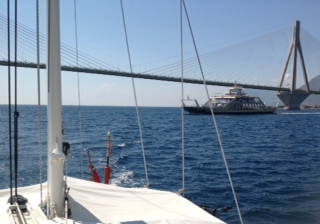 After the bridge the wind continues to freshen from the WSW with waves building
and emerging white sea horses increasing by the second. The engine is cut and we
remain with genny only out, maintaining some 7+ kts.
15:30 Our course is changed to 86 degrees which will take us to the Trizonia approach
WP at the southern tip of the island, some 11.4nm distant. Wind up the chuff, now WSW
18 to 20 kts and building. A great sailing day ! This is what it's all about. This is what
we are here for. Marvelous.
Video.MOV
Description: QuickTime movie
IE
Sea video clip
17:20 38:21.27N 22:5.31E We arrive at the Trizonia WP; and the engine is started and headsail rolled away. As we turn into the bay we get the full force of the 26it wind on our nose through the open cockpit wind shield. We enter the small anchorage with its relative calm. Whilst the little marina looks pretty full with boats also stern to on the breakwater, there are only two boats at anchor. A small motor cruiser and a French live aboard with a guy strutting his stuff starkers on the stern platform, who greets us on our arrival.
17: 40. 38:22.041N 22:04.55E Trizonia Anchorage: We find a suitably sheltered spot and drop anchor. It is nice to be back. Last here in May. A very pretty little island. Passage time was some 5 hours 40 minutes for the almost 40nm passage.
A few minutes later we are in the water for a swim and to check the anchor. Whilst still fine and sunny, we suspect from nearby cloud formations that we are about to experience another thunderstorm shortly. In the event, we don't.
We enjoy a game of Backgammon with our G&T's. We finish the game just before darkness fell. Jackie as usual won. Decided not to leave the boat unattended this evening so we eat aboard in a candlelit cockpit looking out on the twinkling shore lights, on what turned out to be a beautiful evening and end to a perfect day.
---