South Island, the final week. 43:31.9S, 172:37.38E

Serenity of Swanwick
Phil and Sarah Tadd
Sat 12 Dec 2020 08:21
A week to go before the camper had to be returned and we wanted to get up to Arthur's Pass and hopefully go up Avalanche Peak but the weather didn't look good. There was one chance which was Thursday so we had to get a move on. Leaving Fox Glacier area we headed north up the coast stopping for the night at Whataroa. This was another quiet town, the overnight site was behind the local hotel, which had an open sign outside but no one was around. We phoned the owner and were told to park up and someone would collect the money in the evening. Toilet, showers and kitchen were available by just using the back door. We explored inside and it was decidedly creepy, we both made sure that we didn't need to go in after dark.
Then up to Ross an old gold mining town which still has an active gold mine, the owner must be doing alright as he employs about a dozen men. It was estimated in 2010 that the town was sitting on about 3 billion dollars worth of gold if it was possible to flatten the town.
Further north and we stopped in Hokitika and walked around the Hokitika Gorge where the glacial melt waters flow down onto the coastal plain
Hokitika Gorge and the blue glacial water.
Our little camper struggled its way up the climb to Arthur's Pass, the highest pass across the Southern Alps at 739 metres, and we spent a windy and cold night there. Unlike last time we stayed here the Keas (alpine parrots and great thieves) were absent – probably put off by the weather. With strong winds still blowing the next day and fresh snow having fallen on the mountains we gave Avalanche Peak (1833m) a miss and settled for a lower ridge walk with excellent views. The Bealey Spur track.
Looking toward Avalanche Peak from the Bealey Spur track.
The Bealey hut, sleeps 6. Erected when flocks were grazed up here now used as a DOC basic hut.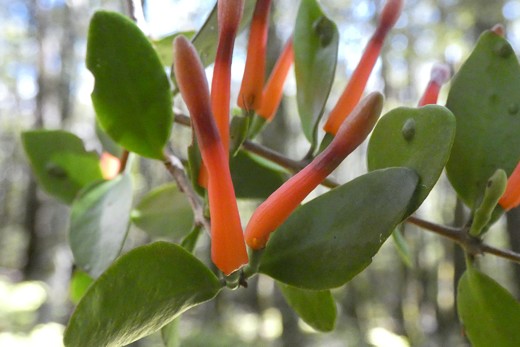 Red mistletoe, growing on Mountain Beech trees at the base of the track.
After Arthurs Pass we headed toward Christchurch for a few days of touristy sight seeing including the city museum and the Saturday Farmers Market at Riccarton House, very little farming evident but nice food. We visited two gardens; Broadfield, formal and used as a wedding reception and photo site with a wonderful rose garden and Cedar Park Gardens, a private garden but open to the public by arrangement.
Riccarton House farmers market.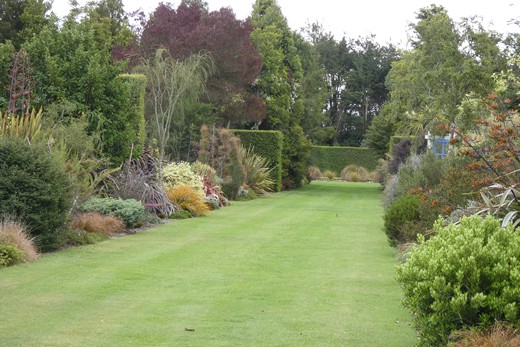 Broadfield Gardens.
Cedar Park Gardens.
A walk worth doing was the Riverside Promenade which took in the Earthquake Memorial and ended at a new childrens playground. There is a lot of redevelopment being done in Christchurch and this playground has a wonderful range of climbing, swinging and sliding equipment and also a water fun area with all sorts of dams, flows and pumps.
Water play area in Margaret Mahy Playground, educational and fun.
The Earthquake Memorial seen from the far side of the river. The writing on the 3rd row up is the names of the 185 who died
Sarah did a post on Facebook Travel Locally New Zealand asking what we should do in Christchurch and amongst the fairly normal suggestions was BloKarting. It looked zany enough for us so we booked a half hour session. We had such a buzz from it it took all evening to come back to normal. The carts are small land yachts with easily changed sails and wheels to give a challenging but safe ride for any experience level, strangely they gave us the large sails and narrow wheels after our first couple of circuits. We had blustery conditions and and frequently lifted a wheel, Phil was the only one to push the limits and manage a capsize!
Blokarting, need we say anymore.
After the excitement of the Blokarts and before we handed back the camper we finished our time in Christchurch with Punting on the river, a bit more relaxing.
Punting on the Avon.
Part two of our trip from Fiordland to Christchurch.
Sent from Mail for Windows 10
---