Shakedown 36:19.2S, 175:29.4E

Serenity of Swanwick
Phil and Sarah Tadd
Mon 15 Apr 2019 00:10
Well we were sitting on board minding our own business on Friday when a lady came down and said that she had noticed the Ocean Cruising Club burgee and that she used to be a member. So we met Jane and her husband Peter. Jane, a Devonian, had sailed out here from Vancouver in the seventies and settled. After inviting them on board for tea and chatting for about an hour we were invited out to lunch on Tuesday. This is where we were then introduced to Colin and Marjorie another couple of ex cruising sailors, they had sailed out from the Hamble at a similar time and settled, not so easy to do now unless you have a skill that is in short supply. Colin and Marjorie live close to one of our favourite anchorages down river so we plan to visit them when we return from our shakedown.
Wednesday we escaped from the town and motored down to the Nook anchorage, we knew that the weather was going to deteriorate for a couple of days but this is a safe place to sit out a blow and also puts us a days sail from Great Barrier Island and Kawau Island two good destinations. We sealed around a window which was leaking and did a few more jobs between showers.
Friday morning up at first light and motor out to sea, with a westerly wind we headed for Kawau Island, a beam reach most of the way with squally showers and gusty wind up to 30 knots. This meant that we tested out our reefing of the mainsail and furling the genoa, all working OK. Turning into the channel round the north of Kawau we were beating into wind and tide, six hours for the first 36 miles then about four for the next 10! Two nights in the peace of Bon Accord Harbour, with cries of male and female Kiwis at night, and then today across to Great Barrier Island where we are now anchored in Shoal Bay, Tryphena Harbour. The towed generator, watermaker and self steering were all tested on the way across and working well.
This morning we moved from the anchorage in Shoal Bay to Mulberry Cove where the general store is.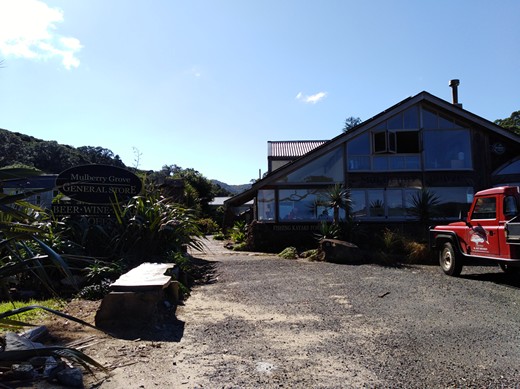 Mulberry Cove general store and bar – a nice spot for a coffee
Serenity anchored at Mulberry Grove
Sent from Mail for Windows 10
---