Happy Christmas from Great Mercury Island - 36:36.0S, 175:46.5E

Serenity of Swanwick
Phil and Sarah Tadd
Wed 25 Dec 2019 05:35
We stayed in Whangarei long enough to take delivery of our new water maker – it was a long saga which ended up with Phil taking a taxi to the freight company's depot to pick it up, as it was going to take a further 2 days to be delivered to us in the marina 2 miles away. With that stowed away, water tanks full and the lockers full of food we were ready for some time away from town and slipped our lines at high water on the 19th December. We followed 'Saga' down the river and had a change from our normal anchorage, stopping just behind them in McCleod Bay for the night.
Over supper on 'Serenity' we had decided on an early start on Friday to catch the last of the tide down river and to beat the afternoon's stronger winds to Kawau Island. We were up at 0530, but Inge and Thomas were ahead of us and 'Saga's anchor came up first. It was a great day with a steadily increasing northwest wind, which had us sailing dead downwind with the sails goosewinged (one out either side) for most of the trip, meaning we had to concentrate on our helming rather than switching on the autopilot and relaxing. We were expecting an increase in the wind as we turned to go behind Kawau Island and had reefed the sails before we got there, but we weren't prepared for the way it swung to the west and howled off the land towards us. We rolled away the Genoa and motored into it until we could turn south again and motorsail to Bon Accord Harbour. We have anchored in Bon Accord on several occasions and with a forecast of northwest going southwest it should have been protected, but the wind continued to blow at more than 20 knots from the west and it was not a comfortable place. We were very glad when the wind died with the evening and we had a more peaceful night.
Saturday's start was a bit later; the distance to our next stop at Port Charles on the Coromandel Peninsula was the same as Friday (40 miles) but we didn't have to worry about the wind increasing later – if anything it was likely to decrease. This time 'Serenity' was away first, but 'Saga' overtook us as we got our sails up and stayed just ahead all day. It was another enjoyable sail with the wind from the south as we headed just east of south and both boats made 5-7knots all the way to Cape Colville at the northern end of Coromandel. 'Saga' was ahead at that point and picked up a favourable wind shift as she rounded the cape. 'Serenity', just a mile behind, was caught by the tide, struggled to round the corner and by the time we got clear 'Saga' was 2.5 miles ahead!
We spent 2 nights in Port Charles, well sheltered from the strong southwesterly winds on Sunday afternoon. Thomas had found some walking trails in the area and we had a long walk on Sunday with views over our anchorage to Great Barrier Island on the far side of the Colville Channel.
Anchored alongside 'Saga' in Port Charles
Sadly there was rubbish dumped all round this forest walk – including a large number of old vehicles. The sign on the tree reads 'Bus Stop – No Parking'!
There were also bee hives everywhere, with bees feeding on the last of the Manuka (Tea Tree) flowers
Views to Great Barrier Island
Port Charles – despite the name there are just a few houses around the bay – many of them probably holiday homes, with a gravel road the only access.
On Monday we had a more leisurely start (0830) for the 20 miles to Great Mercury Island. 'Serenity' headed straight for the shortcut inside an island off the headland and got ahead of 'Saga', where she stayed all day. The two boats are quite different but seem to be well matched in speed. The wind was gusting down off the land, and around the headland we were hit by one gust of over 25 knots which had us scrambling to reef down, so we turned away from the land and soon got into clear air for a third successive excellent sail – at times we were making 8 knots with the help of a bit of tide.
We anchored in Huruhi Harbour, where there was shelter from the swell, and it soon began to fill up with local boats out for the holiday. Great Mercury Island is private property (owned by one of New Zealand's richest men), but with a few restrictions visiting sailors are allowed to walk anywhere on the farmland. We took advantage of that on Tuesday and enjoyed the varied landscape, with granite outcrops reminiscent of Dartmoor, massive chalk cliffs and lovely coves.
A nice bit of scrambling around the rocks between beaches
Coralie Bay on the east coast would be a great anchorage, but not with an easterly swell
Lovely colours in the rock
And amazing rock formations
The anchorage at Huruhi Bay looking relatively empty in the middle of the day
The rugged east coast
New Zealand or Dartmoor?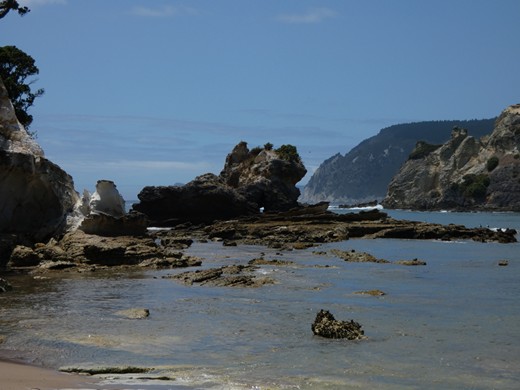 The rocky entrance to Coralie Bay
Pretty coves all round the island
This morning, Inge and Thomas left early to head south towards Tauranga. We have spent a quiet Christmas Day on board with a short walk this afternoon to investigate the anchorage at the north end of the island. This evening the dinghy is back on deck ready for our departure tomorrow.
Wishing you all a very Happy Christmas.
Sent from Mail for Windows 10
---