SIRT4, Franz Josef and Lake Wanaka 44:26.5S, 169:14.6E

Serenity of Swanwick
Phil and Sarah Tadd
Fri 9 Mar 2018 01:33
From Arthurs Pass we continued our southward progress down to the Glacier Highway. There are two glaciers that come down off Mount Cook toward the coast and are accessible from that side, at the moment the road up to Fox Glacier is damaged so only Franz Joseph is approachable. We spent one night in a campsite at Franz Josef with views from the van of the glacier.
Franz Josef glacier from the campsite
The next day we drove to the road-head carpark and, walked up to the closest allowed viewpoint about 45mins further up the valley.
As close as your allowed without a guide! To walk on the glacier you have to go up by helicopter, as the front edge is unsafe.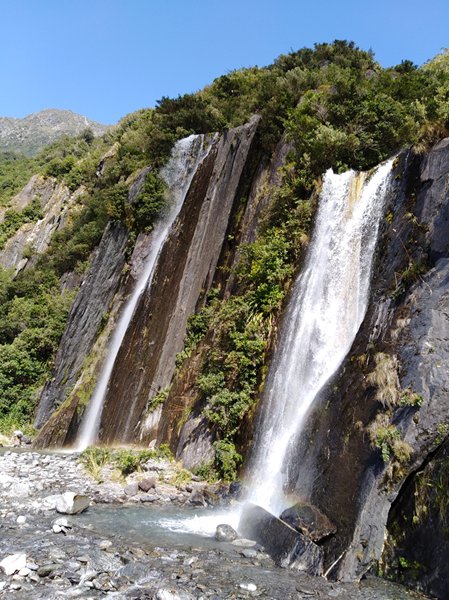 Waterfalls into the valley.
We carried on south along the coast with views back to the Mount Cook area, and a beautiful but ever changing coast, then alongside Lake Wanaka to camp by Lake Hawea the smallest of the three alpine glacier lakes of the Southern Lakes district.
Looking back NE from the coast road
Inaccessible beach with seals
Shipwreck creek. Where a ship that was lost of Tasmania was found buried in the sand.
Lake Wanaka
Our campsite at Lake Hawea.
Sent from Mail for Windows 10
---