The Flats 9:20.43N,79:54.83W

Serenity of Swanwick
Phil and Sarah Tadd
Sun 9 Apr 2017 19:59
This afternoon we are in the anchorage at the Flats in Christobal Harbour, waiting for our Advisor to come on board to start our transit of the Panama Canal.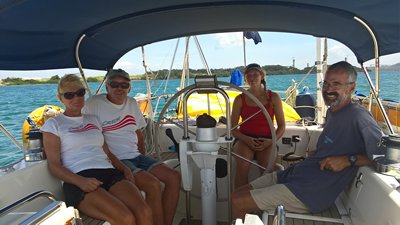 With our crew, Regina, Gunter and Emily at anchor at The Flats.
Our last couple of weeks in Shelter Bay went quickly. It took four days for us to complete the cover for our dinghy. It was hot and tiring work as we had to keep lifting the canvas on and off the boat, but we were very pleased with the result.
It was good to see Michael on 'Henrietta', who arrived single handed a few days ago. We met last year in the British Virgin Islands, at the Cruising Association Rally. Michael invited us for a lovely evening on board 'Henrietta', with good food and company. We also had a meal on board 'Saga' with Inge and Thomas, and with Helen and Tommy from 'Bonnie Af Stockholm'.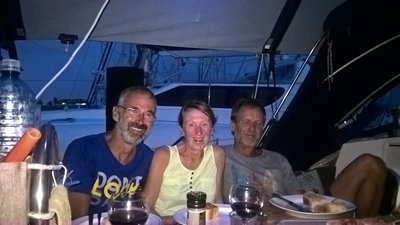 The crews of Saga, Serenity and Bonnie get together for a final meal in the Caribbean!
We were told about a footpath that goes out the back of the Marina, and after a scramble across some old bunkers (the area used to be an American military base, takes you down to the sea, so we had a pleasant hours walk a couple of days ago.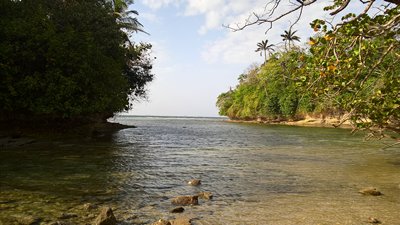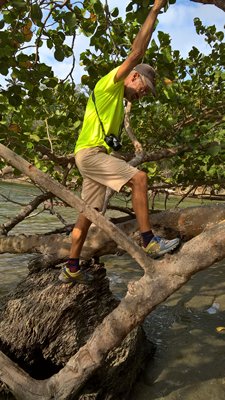 The Marina has a great social life, with daily yoga and aquafit classes, and weekly barbeques, music nights and film nights. The final event of our stay in Shelter Bay was an ice cream sundae morning this morning. Bill and JoAnne had bought vast quantities of ice cream, plus all the toppings and we all queued up for a huge sundae. Great fun.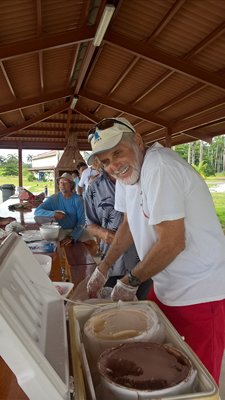 We have been told to expect our Advisor at 1615. So we have a couple of hours to wait. Tomorrow we should be in the Pacific.
---