New Year at Great Barrier Island 36:11.987S,175:19.8E

Serenity of Swanwick
Phil and Sarah Tadd
Mon 1 Jan 2018 23:41
After 3 weeks in the marina at Whangarei, we decided to have a change for New Year, and to join all the sailors from Auckland who spend the holiday at Great Barrier Island. But 3 weeks in Whangarei, and a month in Opua before that, had its consequences and so many barnacles had grown on the propeller that we had no power from the engine and couldn't make it out against the waves and wind in the river entrance. So we found a sheltered bay in the river so that Phil could dive down and scrape it clean.
It was 50 miles from our anchorage to Port Fitzroy on Great Barrier, and with light wind we had to motor part of the way in order to make it in daylight. After a night in Forestry Bay, we moved to Smokehouse Bay to join 'Bonnie of Stockholm' for New Years Eve. The Bay was busy with boats, but we managed to find a spot close to Bonnie and in reasonably shallow water. After a couple of hours ashore, we retired to 'Jack' a German flagged boat that Bonnie had met recently, and saw the New Year in there.
Approaching Great Barrier Island
A lovely walk to a not very impressive waterfall
Looking out over the anchored boats in Smokehouse Bay on New Years Eve
Seeing in the New Year on 'Jack' with Helga, Tommy and Helene....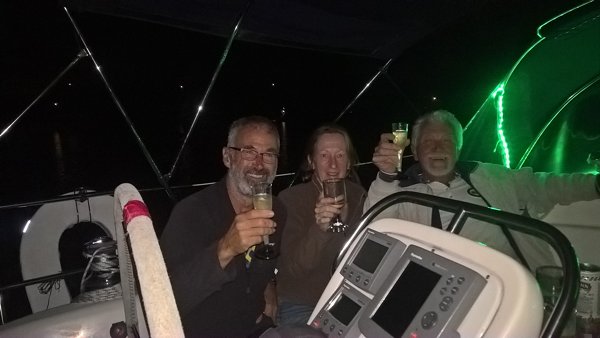 and Fredrik
Smokehouse Bay is named for the smokehouse where you can smoke fish, but also has baths, showers and laundry facilities that are all maintained by voluntary donations.
You can have a bath or a shower
Bath water is heated by a wood burner
Doing the laundry the old fashioned way
Drying facilities also provided
Serenity at anchor in Smokehouse Bay
Sent from Mail for Windows 10
---