Palmeston

Serenity of Swanwick
Phil and Sarah Tadd
Sat 2 Sep 2017 19:39
William Marsters seems to have been something of an 1850s rogue. He left his wife and family in England to try his luck with the Californian gold rush, and ended up on Palmerston working for its French owner. Somehow, when the Frenchman died, Marsters ended up in possession.
The atoll has a number of islands on its encircling reef, only one of which is inhabited. Palmerson Island was chosen because it has the highest land (a few feet) and unlike some of the smaller islands is unlikely to be washed into the sea by a storm. The island is split into three and each portion is inhabited by the family descended from one of the first Williams wives. The islanders cherish their isolation and way of life, they have refused a landing strip and so remain dependant on supply boats, and yachts. One of them described their values as 1950s; church is central to their lives, and the punishment we saw handed out to the children was definitely 1950s! While we were here a Danish yacht came in from Aitutaki, 200 miles away in the Southern Cook islands, with supplies that Metua's family had bought and loaded on board for them.
Palmerston island, perched in the reef
While they have no interest in tourists and all the development that entails they love having 'yotties' visit, and treat us like guests. Each day of our visit we were picked up from Serenity by Bill and taken ashore to his house, where he and Metua gave us tea and coffee and an enormous lunch washed down with cold coconut. On one day we had Parrot Fish stewed with onions and a bake of breadfruit, onions, bacon and cheese. There was always Passion Fruit and Mango icecream on offer, which meant that in the afternoons the yotties who were being hosted by the other families gravitated to Bill and Metua's house.
Our hosts, Bill and Metua
Laying the table for lunch
Bill and Metua's home
We were taken on a tour of the island by Bills youngest son, Tomatau, to see the clinic, the solar farm which provides power day and night to the 51 inhabitants, the school where 19 pupils follow a home learning programme under the supervision of 3 teachers, and the site for a proposed hurricane shelter that is being funded by the Japanese.
The school, in among the coconut trees and open to the air
Our days have been filled with eating, talking, meeting people from the other visiting yachts (there have been up to 11 boats with 25-30 people on board hosted here this week), and snorkelling in the crystal clear waters.
Bill ties up his skiff after bringing us ashore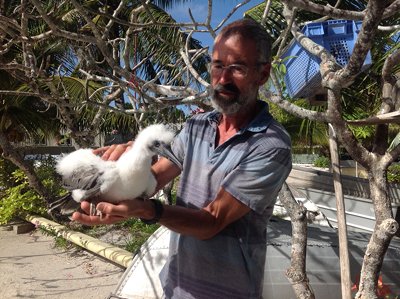 Phil with the family's pet Boobie!
The anchorage outside the reef
And palm trees, sun and sand
We have enjoyed amazing hospitality from this isolated community and this will go down as the most memorable visit of our trip.
---