Santa Cruz

Serenity of Swanwick
Phil and Sarah Tadd
Tue 16 May 2017 03:42
We are anchored in Academy bay, Santa Cruz, just off the port of Ayora. The locals are very laid back and should not be disturbed.
Unless of course there's food around. This is the Fish Market where todays catch is being prepared for sale.
There are lots of birds and Marine Iguanas actually around the town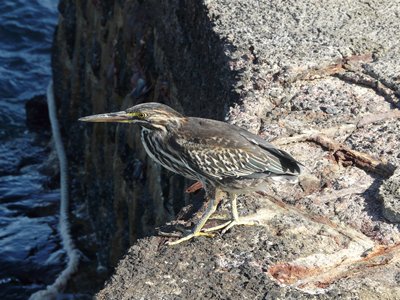 Storm Petrels hover above the water with their legs dangling, so it looks like they are skipping over the water. We have also seen turtles, sealions and small sharks around the boat.
On Friday we visited the Charles Darwin Centre where they have a breeding programme for the Giant Tortoises to try and restore their numbers, There are different species on each of the islands adapted to the conditions on those islands.
There are also some land Iguanas kept here.
Yesterday we walked out along the path to Tortuga Beach.
Past lots of Cactus Trees which provide food for a number of species from birds to Turtles
Along the path the birds and lizards are unafraid and easily photographed.
The beach is a breeding site for Green Turtles and who can blame them for returning to somewhere like this.
Marine Iguanas are also found here, this is the biggest we have seen at 2 – 3ft long.
---