Tahuata and Ua Pou. 9:21.52S, 140:02.81W

Serenity of Swanwick
Phil and Sarah Tadd
Tue 27 Jun 2017 00:10
The Marquises are all extinct volcanos rising steeply out of the sea, and covered in green tropical forest. They represent the first stage in the development of a coral atoll – the coral is growing around the coastline, but is still attached to the land. Given time (a lot of it) the island sinks leaving an island shaped reef and a lagoon inside. Each island has a handful of villages, with maybe just one shop and a church, or several stores, a sports field and a post office. The villages are connected by tracks, and most of the locals drive 4 wheel drives.
From Fatu Hiva, we headed back north west, with a nice day sail, to meet up with 'Saga' and 'Bonnie' on Tahuata. They had found a pleasant anchorage in Anse Iva Iva, off a white sand beach, with only one inhabitant – the only access was by water, and to get ashore you had to anchor your dinghy off the beach and swim. We stayed on board except to swim around the boat, to snorkel and to visit the other boats
Anchorage at Anse Iva Iva
Did we mention that it rained?
We planned to leave on Friday evening to cover the 65 miles to Ua Pou overnight, but on Friday afternoon it started to rain. By dark we had collected 60 litres of water from one half of our bimini where we have a gutter for that purpose, and decided to get up early the next morning and see if it had stopped.
After a night of lightning, the rain cleared and we left at 4am. Unfortunately the promised wind never arrived and we motored much of the way, which at least topped up our batteries. Ua Pou's skyline, with its basalt columns was visible from come distance, and we are now anchored in Hakahau Bay, the main town, with the columns towering above us.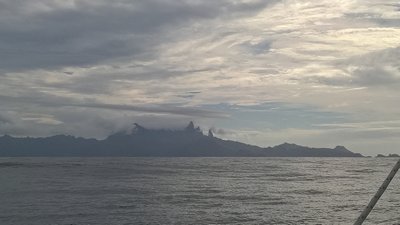 Ua Pou, with its spiky skyline
Every garden has breadfruit, bananas, lemons and other fruit growing
Serenity in the anchorage
View from the anchorage, towering basalt pinnacles.
---