South Island Tour - Cliffs, Seals, Hills and Penguins - 45:25.616S, 167:43.058E

Serenity of Swanwick
Phil and Sarah Tadd
Wed 18 Nov 2020 05:28
We had spent three days around Tekapo, so it was time for a change and on Friday we left the highlands of Mackenzie Country for the east coast. We visited the Mount Cook area last time we toured South Island, so bypassed it this time in favour of some sights we missed before. On our drive to the sea we stopped at the Clay Cliffs – an area of 'bad land' country formed when sedimentary deposits that formed in ancient lake and river beds were uplifted by geological action to form striking peaks and canyons – and then followed down the Waitaki River. The river has been dammed three times for power generation creating Lakes Benmore and Aviemore and, making the most of the natural resource, there is also a community owned irrigation project that takes water from the river and pipes it to hundreds of farms and businesses in the valley. We had planned a walk by Lake Benmore, but the track was closed because of logging operations, so instead we had lunch by Loch Laird (yes there is a bit of a Scottish influence in this area) and had a short walk by Lake Aviemore.
Looking up Lake Pukaki to Mount Cook
Clay Cliffs
The evenings are drawing out now as the longest day approaches and we head further south and we took advantage by making a late visit to Moeraki Boulders before camping. The story goes that an enormous canoe had travelled across the Pacific to New Zealand carrying kumara (sweet potato) and other supplies. It foundered on Shag Point and the crew and cargo were washed up on the beach. The crew are remembered in the names of the surrounding hills, and the boulders on the beach at Moeraki are the cargo. More prosaically they are concretions formed around small pebbles or shells on the sea floor and then exposed when the land was uplifted. Its still pretty amazing to imagine that at the middle of that boulder is a shell 55 million years old.
Moeraki Boulders
Our night at the family run woodland campsite was very peaceful, and in the morning we continued south along the coast. We stopped at Shag Point, where the seals were posing happily for the cameras, but the Yellow Eyed Penguins were hiding in the undergrowth, then continued to Dunedin. The South Island's second city has lots of Georgian and Victorian architecture and a most impressive railway station – as well as local stone, it has columns made of Aberdeen granite and a beautiful tiled interior.
Seals at Shag Point
Dunedin Railway Station
And inside
We couldn't be in Dunedin without visiting Baldwin Street. Sarah's brother lives in Harlech, which briefly took the title of steepest street in the world from Baldwin Street, before Dunedin claimed it back.
We finished the day at a beachside campground at Taieri Mouth – another family run, traditional campground with basic but clean facilities and a lovely beach
The next morning we turned left out of the campsite instead of going back the way we had come and quickly found ourselves on gravel roads without road signs and no internet signal. Sarah was reduced to navigating using a basic map on our camping app. Luckily it wasn't too difficult and we popped out onto tarmac about an hour later. Gravel roads are commonplace when you get away from the main roads in rural New Zealand. We had found our way to the town of Milton, and a pleasant 2 hour walk on the McNally Track which took us across farmland, across a wooded valley and up to a trig point with views inland and to the sea. From here we continued south to Nugget Point and its lighthouse and to try and spot the rare Yellow Eyed Penguins. These are only found in the south east corner of South Island, and there are only around 300 of them. At this time of year they are hatching their eggs and one of the pair stays on the nest while the other goes out to sea fishing all day, coming ashore in the evening, but the time can vary. We waited in the hide for over an hour, but with no luck.
Another damp day for our walk up the McNally Track
Nugget Point is named for the rocks at the end that glow like gold nuggets in the rising sun
We finished the day as we started: on a gravel track to get to a forest campsite run by the Department of Conservation. Our plan was to walk the nearby Catlins River Track the next day. We enjoyed having the remote site to ourselves, but by morning it was raining hard and we abandoned the walk in favour of a visit to:
Cathedral Caves
then a short walk to McClennan Falls.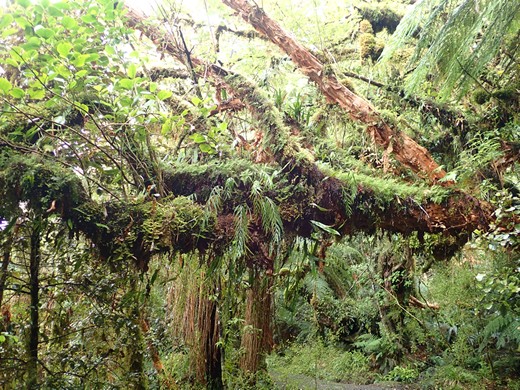 This area is known as the Catlins Rain Forest Park, and the forest growth is lush as a result.
Our final camp down this coast was at Curio Bay on Monday night. The campsite sits on a peninsula between a rocky bay and a river beach and is home to Hectors dolphins, Sea Lions and Yellow Eyed Penguins. Just after 7pm we wandered down to the rocky bay without much expectation of seeing the Yellow Eyed Penguins coming ashore, so we astounded to find one hopping across the rocks just as we arrived at the viewing point. We were told that there are actually only two breeding pairs in this colony at present so we were exceedingly lucky to see it – a rare privilege. The next morning we looked for the sea lions and dolphins without success, but two out of three ain't bad!
Yellow Eyed Penguin – taken with a telephoto lens, but we could see him hopping across the rocks with the naked eye – such a special experience
Yesterday morning there was a storm passing just south of South Island, with strong winds forecast, so we made a quick stop at Slope Point – the most southerly point on the mainland of New Zealand and the furthest south we are likely to go unless we get to Stewart Island. As we drove to Invercargill we understood why there are huge wind break hedges everywhere on the plains of South Island – our little van was buffeted about all over the place. We were glad to find the campsite in the grounds of Winton Golf Club which had big hedge to protect us overnight. We are now in Te Anau, on the edge of Fjordland, with tomorrow to get ready for our next big adventure. We are tackling one of New Zealand's Great Walks, the Kepler Track, so will be out of contact for the 4 days of our tramp.
Nothing between us and the Antarctic, but warm enough for shorts!
The Kepler Mountains from our campsite
A rough route of where we have been
---