South Island Tour week 1 43:59.9S, 170:27.68E

Serenity of Swanwick
Phil and Sarah Tadd
Sat 14 Nov 2020 03:53
We took the early flight down from Whangarei via Auckland to Christchurch and picked up our camper van, all pretty seamless so by 11.00 we were at the supermarket stocking up. We were recommended to try a campsite on Godley Head for the first night, this is a Department of Conservation site at the end of a gated road, low cost, with basic facilities. It is just out from Lyttleton a small port close to Christchurch. Lyttleton appears to be a bit trendy, Totnes like, and we were there for market day. Above the town is a walk called the Crater Rim walk and we got our days exercise by following a path up the hill, 400m ascent, to the top of Mt Cavendish and the top station of the Christchurch Gondola, then along a bit of the rim walk and back down to town. Sarah remembered that Matt and Dagma, fellow cruisers, were based here and we arranged to meet them on Sunday. The campsite, being out on a headland, has great sea views but not while we were there, it is exposed and at 0500 the wind and rain picked up and the van rocked a bit but not too bad. However we didn't hang around to do any of the walks instead we went into town and met Matt and Dagma for coffee.
Lyttleton from the Crater Rim Walk
Sunday was pretty wet so what better than to find an indoor attraction, we went to the International Antarctic Centre. Christchurch is the main hopping off point for Antarctica and this attraction tries to give a feeling of what the Antarctic is like with a ride in a Hagglund, multi terrain vehicle, a cold room which is kept at -8C but the wind chill when they turn the fans on takes it down to -18C, plus lots of information and a rescue centre for Blue Penguins.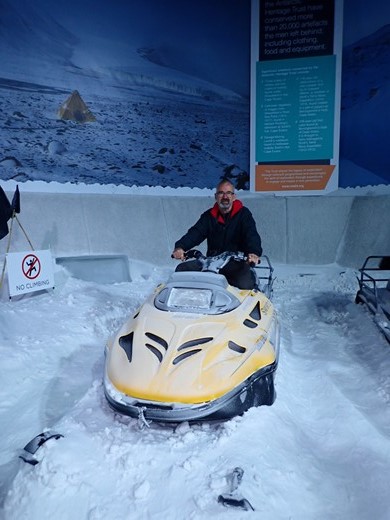 Inside the 'Storm Dome' -8C to -18C
We spent the next night at Rakaia gorge, close to a walking area in Mount Hutt Forest. It was still forecast to be wet but there was walking here in the forest and a combination of tracks gave us a walk of about 4km with 500m of climb, good for getting the legs moving.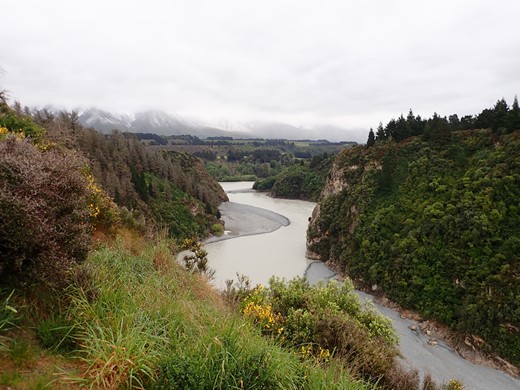 Rakaia Gorge
Rhododendrons in Mount Hutt Forest car park.
On the road again we paid a quick trip to Ashburton to empty the waste water tank, get Phil's glasses repaired, and top up the shopping. Then out to a free campsite at Arundel, an large open space below road level with a loo, what more do you need. We were the only people here and were entertained by the antics of a Hare and the singing of Australasian Magpies. This camp is near Little Mount Peel which we intended to walk up but overnight rain and low cloud in the morning put us off, instead we just did a short walk from the carpark to Acland Falls and another walk to the Big Tree!
Yes it was quite big.
We are making our way down to the south as we didn't go all of the way to Invercargill last time we were here and also we have booked to do The Keppler Track, one of the Great Walks. We are trying to do a number of walks on the way down so are choosing our campsites to suit. We also wanted to spend some time in the Mackenzie Country, around Lake Tekapo, this is a Dark Sky Reserve. Light pollution is strictly controlled by law. This makes it a great place for star gazing and is the home of Mount John Observatory, you can do a dark skies tour from Tekapo so we booked that, looking at the weather forecast it looked like Thursday would be a clear night.
Leaving Mount Peel forest we headed for Lake Tekapo via Timaru and a stroll through the Botanical Gardens
Timaru Botanical Gardens
Lake Tekapo
As we crossed Burkes Pass the weather changed we lost the clouds and found ourselves with blue skies and sunshine and this was how it was to be for the next few days. We stayed on a small site near Lake Alexandrina for two nights, walked the Mount John track with fabulous views, visited the Church of the Good Shepherd, unfortunately closed due to Covid, soaked in the hot pools and had our Dark skies Experience at the observatory. We did choose the right night, it was their clearest night for some time.
Views from the Mount John Track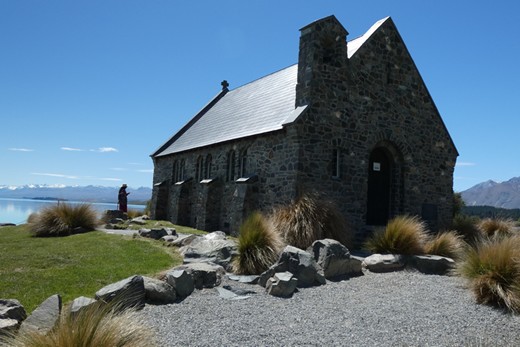 Church of the Good Shepherd.
Mount John Observatory
As on going research is being done, no white light at all is allowed at the observatory. So late at night, for us 11.45, you are bussed up to the mountain top. The bus has special headlights for use on the mountain and everyone is issued with a small red-light torch to use. Two of the Observatory staff give very informative information while pointing out stars, planets which make you realise the size of our galaxy and other galaxies. Through telescopes we were able to view Jupiter with its moons, Saturn and rings, Mars and its icecap and a nebula which we see as a single star in the centre of Orion's sword. An amazing experience.
Sent from Mail for Windows 10
---