Dominica New Year 15:35N 61:28W

Serenity of Swanwick
Phil and Sarah Tadd
Mon 2 Jan 2017 16:00
From Marigot, St Lucia, its just over 100 miles to Portsmouth, Dominica. We covered this over two days to make it easier and also to give Helen and Adrian the experience of longer sailing days. With good easterly winds this gave good sailing across the channels between the islands and a mixture of sailing and motor sailing in the lee of both Martinique and Dominica. As we approached Martinique we were overflown a couple of times by a small aeroplane which we assume was whale watching and then we saw two whales as they swam slowly past us heading south. They were swimming side by side and probably longer than Serenity. We stopped overnight in St Pierre and visited the museum which tells the story of the Mt Pelee eruption in 1902 which wiped out the then capital of the island. On Friday we continued on to Dominica mooring up in Portsmouth.
New Years Eve and an early start with Daniel collecting us at 0800 for a trip up the Indian River. Doing this trip through the mangroves early means that you get to see the birds while the river is quiet (no motors are allowed so you are rowed up the river), there was only one other boat on the river while we were there. We watched a Blue Back Heron nest building and various others feeding, getting quite close as we were rowed up the river.
Daniel
Reflections in the Indian River
Daniel rows us up the Indian River
Early morning colours
In the afternoon we had a half day tour with Uncle Sam, who had been our guide last time we visited Portsmouth. We wanted a good walk so he took us to Chaudriere Pool, which is up in the mountains in the north of the island. The walk in took us along a plantation access track and then up and down a steep muddy footpath with great views of the mountains, and fields of pineapples on both sides! Uncle Sam's 9-10 year old daughter was with him and she helped explain the plants and fruits along the way and joined Helen and Adrian swimming in the pool.
Uncle Sam and his Daughter at Chaudiere Pool
Chaudiere Pool
Views from the track to the pool
Sorrel, used to make a drink at Christmas
Pineapple plantations
For New Years Eve there was a beach barbeque for visiting yachtsmen, with rum punch and music laid on. As the evening progressed the visitors faded away and the locals began to dance, with contemporary Caribbean music replacing the Bob Marley. We left just before midnight and saw the New Year in on board 'Serenity', remembering last New Year when we were in the middle of the Atlantic.
New years day was fairly quiet and we took a stroll out to Fort Shirley, and we also arranged to join a group of yachties on a walk to Tan-Tan falls the next day. This turned out to be one of our best days on Dominica. The group was made up of various nationalities and led by Susie an English yachtswoman who has been in the Caribbean for a number of years. We walked through the mangroves and then up past a Bay Oil factory (oil from Bay leaves) and along a stream up into the hills. The track was very well made and we commented to each other that we were surprised there was no charge to come here it was so unspoiled but looked after. The cliffs were held back in places by trees with enormous buttress routes and in other places there were trees and roots growing dead straight for a 100ft. We swam in the falls climbing from one pool up into another. All in all a wonderful experience. Then the ranger arrived! There was a charge for coming here and we should have had a guide, so we paid on our way out and were treated to drinking nuts and an explanation of the different uses of Coconuts and how they change as they age to give different types of food.
Amazing roots
The falls were hidden in a cave and two pools were seperated by a short climb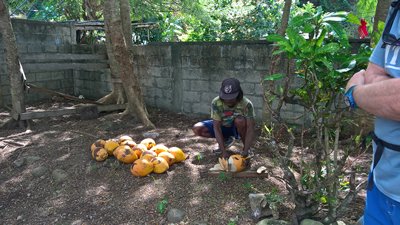 Chopping nuts for drinking
Cheers!
---