Rangihoua Bay: 35:10.3S, 174:05.7E

Serenity of Swanwick
Phil and Sarah Tadd
Sun 17 Nov 2019 21:56
With our new furling gear promised for Friday, we used the morning to go shopping ready for a few days at anchor in the Bay of Islands. We walked to Paihia along the lovely coastal footpath, getting some much needed exercise along the way, and were rewarded when we found some local growers selling produce beside one of the bays on the way. We arrived in Paihia already stocked with strawberries, blueberries and cauliflower.
A beautiful morning for a walk
Variable Oystercatchers – so called because they come in different colour schemes
The last part of the footpath is great fun just after high water
Lovely views over the Bay of Islands
When we got back to 'Serenity' the rigger had removed the old furler
And was preparing the new one.
By the end of Friday it was all installed and we had the sail back on ready to leave. When we went to check out of the marina we found that our new hatches had been delivered already – despite only being ordered on Wednesday – so the next big job is now waiting to be done.
At 1130 on Saturday morning we motored round to the fuel dock and topped up the tank then headed out into the bay for a nice sail to our anchorage at Rangihoura Bay, where our guide said the best anchorage was close to the Marsden Cross and that there were walks in the area.
Rangihoura Bay on the northern shore of Bay of Islands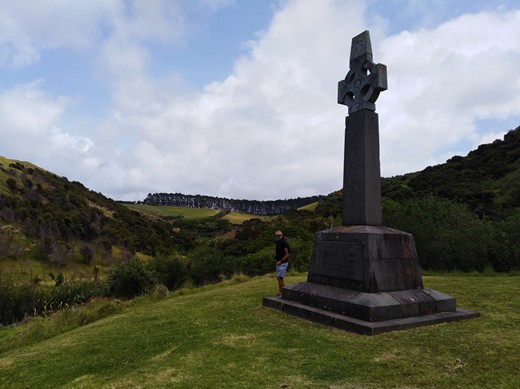 The Marsden Cross commemorates the first Christian service in New Zealand. It was held by the Reverend Samuel Marsden on Christmas Day 1814. There was a mission and settlement on this site for about 30 years before it was moved further into the bay.
The mission was under the protection (and shadow) of a Maori Pa, or fortified village – on the top of the hill. Reverend Marsden had previously befriended the Chief's son and they agreed to allow the settlers to use the land. Misunderstanding between the Maori and the settlers as to the rights that had been given in the transaction later caused difficulties, and similar misunderstandings underlay some of the most fundamental disagreements between the two populations, which are still being addressed today.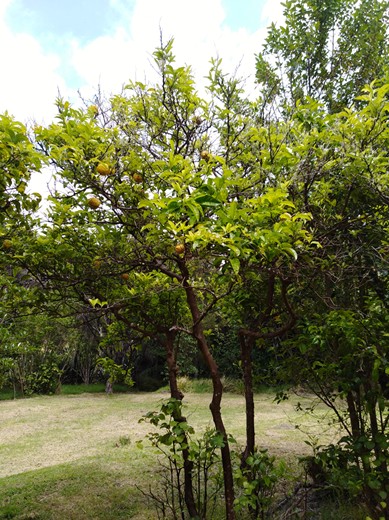 The settlers were almost self sufficient in food on this site and their fruit trees are still there. We saw these citrus trees and apple trees.
A half hour walk gave us a lovely view towards Kerikeri. We couldn't see a way of getting up to the old Pa site, which was even higher.
We had two nights in this anchorage, before the forecast of south westerly winds sent us across to the southern shores of the bay for shelter.
---