Tikis and papaya

Serenity of Swanwick
Phil and Sarah Tadd
Sat 17 Jun 2017 07:33
HIva Oa is said to have an amazing collection of historic sites, but often hidden in the forest and hard to find, so today we took a guided tour with the crew of 'Whisper' to see some of them.
Our guide was Pifa, one of the O'Connor tribe who seem to occupy a large part of the northern end of the island. He picked us up in his 4 wheel drive pickup truck, with 4 of us in the back seat until we were far enough away from town and police that one of us could climb on to the back of the truck. Everyone we passed seemed to be either Pifa's cousin, brother, sister or grandfather.
It wasn't long before the 4 wheel drive was needed as we went up and down switchbacks on a dirt road overlooking the ocean until after a stop for lunch we found ourselves at the village of Puamau, and Iipona, one of the best preserved archaeological sites in French Polynesia. The site was surrounded by trees and backed by a cliff and was quite eerie. There were 5 huge Tikis, and the remains of the platforms that they lived on – all beautifully maintained – the Tikis now have shelters built over them to prevent them deteriorating any further.
The north coast
Lunch stop
Tikis at Iipona
The platforms and the shelters over the Tikis
Carving representing a priest
The route back was the same as the route out, and Pifa stopped at a number of sites he had noted on the way out, and picked us bananas (a whole bunch), papaya and grapefruit. There are fruit trees everywhere here and all belong to someone, but you will not normally be refused if you ask for some.
Pifa liberates some Papaya
We paid a quick visit to the beach at Hanaiapa, where we met the crew of an Italian boat we had seen in Panama, before returning to the bay just before dark. Tomorrow we are heading for some of the smaller islands, and don't expect to have internet access until we arrive in Nuka Hiva in a week to 10 days time, so no more pictures until then.
Traditional outrigger boat on the beach at Hanaiapa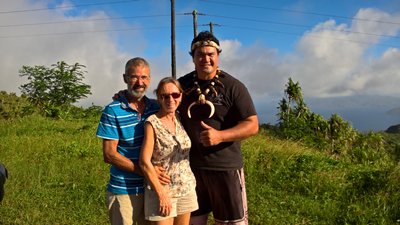 Pifa O'Connor – Irish or Marquisan?
---