San Blas Islands

Serenity of Swanwick
Phil and Sarah Tadd
Thu 9 Mar 2017 21:53
This group of Islands is part of Panama but semi autonomous, inhabited by the Kuna Indians. The Kuna are one of the strongest nations among indigenous Americans. There are 378 islands mostly small Cays, and the whole area is strewn with reefs making navigation by eye a necessity, the charts are not accurate enough to rely on so using the plotter (satnav) as the main source of navigation data is a risky process.
We have not spent very much time here yet, we may return, having only been to Porvenir to check in and one other anchorage between two small islands at the western end of Hollandes Cays, protected from the north by a reef.
Porvenir, admin buildings, hotel and aircraft landing strip for small planes. You can't anchor off the end of the airstrip as the planes come in very low (the fence marks the edge of the runway).
One of the Islands to the south of Porvenir where Phil had to go to get photocopies of our passports. Covered in buildings which also overhang the edge. The only open space is the basketball court in the centre. The green water is the reef surrounding the island
A typical small Cay and off lying reefs.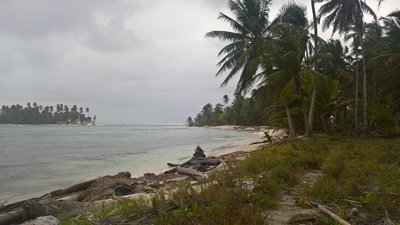 Views of our second anchorage with the protecting reef between the islands.
Acuakargana is to the left and Waisaladup to the right.
Sarah buys a bracelet and has it fitted. The ladies wear these up their legs and arms. In traditional dress they have gold jewellery and a dress with a Mola on the front and back. The Mola's in these pictures are for sale. This couple appear to have adopted more western dress. They were both concerned that Sarah should rest her leg and insisted on providing her with a chair to put her leg up. The woman only just came up to Sarah's shoulder.
Mola bought at Porvenir from three ladies who came out in their dugout canoe
---