Tasmania Road Trip- Part 1 - MacQuarie Harbour, Strahan and around

Serenity of Swanwick
Phil and Sarah Tadd
Tue 24 Jan 2023 07:58
Having left Serenity in Prince of Wales Marina and hired a car we set out on our road trip. There was no way we could see the whole of the island in a few days but we did travel across to the west coast and up to the north. We intend to see the east coast on our way back up to the mainland by sea.
Leaving Hobart late morning we took the scenic route as far as New Norfolk where we found lunch in a café in an old church which was also a quilting centre and shop so Sarah was in her element. We realised then that if we were going to make it to our booked accommodation in Strahan and also see things on the way we would have to drive the main roads.
Ex Church, Cafe and Quilting Centre
We stopped at Lake St Clair, bought our National Parks Pass, necessary for walking in a lot of the island and started our quest to see a Platypus. From the national Park Centre we did a fairly short walk around the Platypus circuit trail but saw none.
Platypus Bay on Lake St Clair
Then back into the car and on through Queenstown and out to the coast at Strahan (pronounced Strawn) on Macquarie Harbour for our first night.
Macquarie Harbour is a large bay, about 315 square kilometres, with one entrance from the southern ocean only 80 meters wide known as Hells Gate. In the harbour is Sarah Island the earliest convict settlement used to house the worst re-offending convicts. They knew that when they entered through Hells Gates they were bound for the most severe and extreme physical and mental torture. The whole area The Tasmanian Wilderness, including Cradle Mountain, Lake St Clair, Franklyn-Gordon Wild Rivers and five other national parks is a World Heritage Site covering a quarter of Tasmania 15,800 Sq Kms.
Strahan town is the departure point for the cruise and like a lot of the area has mainly early 19th Century buildings.
We were booked on a boat cruise to see Macquarie Harbour, Hells Gate, the Gordon River and Sarah Island, a six hour cruise.
Hells Gate, the 80m wide entrance to Macquarie Harbour
Lower part of the Gordon river, here the cruise boat switches from diesel power to electric.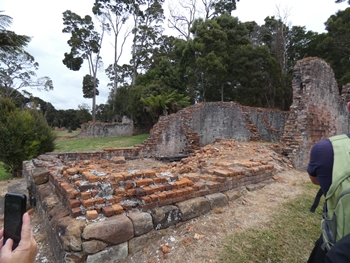 Sarah Island ruins. Sarah Island was the oldest convict settlement, this is the early penitentiary which had solitary cells only six feet by three with no windows. There was a shipyard, the largest in Australia, on the island which used skilled convict labour to produce over 100 quality vessels.
Back in Strahan we went on another Platypus quest, this time toward dusk. There is a walk up to Hogarth falls where reportedly Platypus can be seen in the pools below the falls. This is only a short walk but allowed us to stretch our legs. As we entered the park at the start of the walk we were entertained by a couple of Kookaburras, the laughs of these birds will be a lasting memory of Australia like the song of the Tui is of New Zealand.
Hogarth Falls, needless to say no Platypus to be seen.
The Laughing Kookaburra
Day three and a leisurely drive to Queenstown. We had booked a trip on the West Coast Wilderness Railway which runs from Queenstown but as this is so popular we had a day to wait before we could get seats. Just out side Strahan is Tasmania's longest beach aptly called Ocean Beach as it is open to Southern Ocean, with no land to the west until you reach South America. North of this are the Henty Dunes, rising to 30m high and stretching 15km along the coast and several kilometres inland an area that it would be easy to get lost in. It is used by many for sandboarding, sledging on sand and we watched some sandboarders both young and not so young slide down incredibly steep slopes.
Ocean Beach surf
Henty Dunes, a wilderness of sand bordering onto rainforest.
On the road again and a stop in Zeehan for lunch at another quirky café based on a motorcycle workshop, the loo had some interesting features.
Pit Stop Cafe loo.
Zeehan was a boom and bust town, it now has a population of about 700 but at one time it was 10,000 as silver was discovered here. It was the home of the Zeehan School of Mines and Metallurgy, this building and other buildings nearby on the main street have been combined into The West Coast Heritage Centre and something of life in the mining era. Included in the entry ticket are access to the Gaiety Theatre, Police station. Many hours could be spent here ad the entry ticket gives access for a whole week!
Zeehan School of Mines, now the entrance to the Heritage Centre
The Gaiety Theatre and next door the Court House. At one time the theatre was considered one of the best theatres in Australia.
Then on to Queenstown for the night, and the rail journey next day.
---