To the Virgins

Serenity of Swanwick
Phil and Sarah Tadd
Thu 7 Apr 2016 01:48
Well, Sunday evening we got away from Anguilla. Having toyed with the idea of heading back south east to Antigua via Saba, we decided that as we were already cleared for the BVI's and bought the charts we would go there, if they were as expensive as reported, well we would make the best of it. So we departed around 18.00 with no wind, which was quite a change as it seems to have been blowing hard for weeks now. Eventually we picked up a bit of a breeze and ended up sailing under poled out Genoa through the night to arrive in Gorda Sound, at the northern end of Virgin Gorda, at about midday. It was strange to sail through the night after so many day sails, our last night passage must have been from Barbados to St Lucia.
As you approach the BVI's you have to be careful about the reefs, but the passage in was quite wide past Necker Island, owned by Richard Branson, and then through a narrower channel into the sound. We cleared customs at Gun Creek and then anchored off Prickly Pear Island for two nights. It was lovely and quiet, with warm water for swimming and very peaceful most of the time: perfect for Sarah who has been suffering a cold and cough, to recover. This is the major charter boat area and although there are loads of boats about it still seems quite quiet. The sunset over Mosquito Island was lovely.
Today we moved up to St Thomas Bay and Spanish Town. This is the main town on the island and we needed a bank, a local SIM for the phone and a small amount of food shopping. We walked up from the marina looking for a main shopping area and finding nothing, so we had to ask in a garage. The lady we asked was great and arranged a lift with one of the buses which was just going out. We were shown the best route back to the marina and dropped off outside the phone shop. When Sarah asked if there was any charge the answer was something like 'no, just cool it man'. Wonderfully colourful open bus. People have been so helpful and friendly so far it really makes you feel welcome.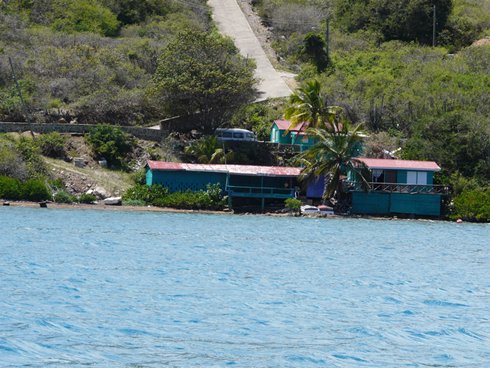 ---