Camper car and touring

Serenity of Swanwick
Phil and Sarah Tadd
Sun 24 Dec 2017 02:37
We are still based in Whangarei as its so convenient. Last week we travelled by bus down to Tauranga to pick up our camper "car", you can hardly call it a camper van as its basically a people carrier converted to a travelling bed. It is classed as 'self contained' with a loo, cooker, fresh water and holder for waste water. This means we can legally stop in freedom sites with no facilities for up to three days (some of them are by public toilets which is quite handy). Also the arrangement we have means that we sell the car back when we have finished with it, for a pre-agreed price, this is a lot cheaper than renting.

We spent the weekend in the Rotorua area visiting the Wakarewarewa Maori village and the Redwood Forest, camping and walking by the lakes and generally relaxing.
The village in the volcano caldera.
There is a traditional Maori meeting house but they also have both Anglican and Roman Catholic churches. When the missionaries came the chief said yes to accepting both and split the village in two, one side of the street became Catholic and the other Anglican. There is a long history of the women from this village acting as tour guides and our guide was a lovely Maori woman full name was almost as long as that of the village itself.
The hot pool in which vegetables are cooked by placing them in a mesh bag and lowering them into the water.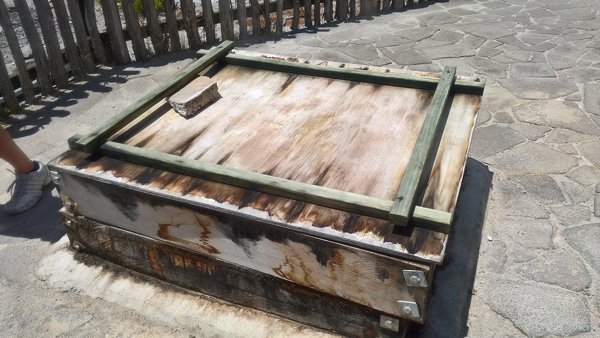 And the steam oven, it was in use cooking a villager's dinner.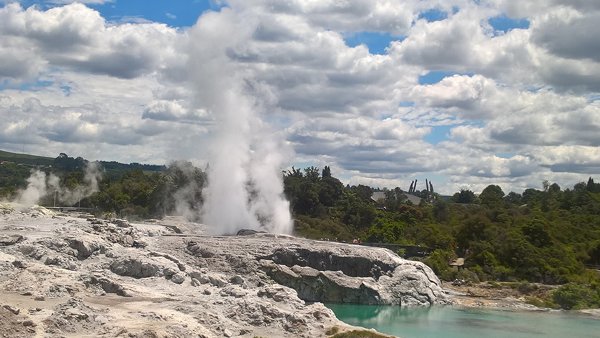 A geyser building up to a full head.
Then we drove back north with a short stop at the Hamilton gardens, an interesting area of parkland and organised gardens created from an old rubbish tip.


Now we are back in Whangarei for Christmas, and enjoying the music from the café area across the water.
---