FW: SIRT Part 2-Picton to Abel Tasman. 40:50S, 172:54E

Serenity of Swanwick
Phil and Sarah Tadd
Sat 3 Mar 2018 04:24
Our first night on South Island was spent in Picton on a paid campsite booked before we left Wellington, we didn't want to arrive and drive miles looking for a site. We had hoped to meet up with an ex-member of Ashburton Hash who moved out here some years ago but that was not possible so maybe on our way back north.
We headed out toward Abel Tasman National Park next morning a very winding road alongside Queen Charlotte Sound. Being in need of some exercise we stopped at a town with tourist information where they suggested a 'tramp', one end of the Nydia trail up to a saddle and back reckoned to take about five hours. The tramp started at the end of another long windy road which Sarah drove worrying when there were drops on both sides! The trail was in Bush most of the way but with occasional views of the water.
View from the Nydia Trail
The next campsite was excellent, clean toilets loads of sites separated by trees and bushes and only a handful of vans. The only problem was the Waka, this flightless bird is a thief and will try to steal anything it can. It even tried to take the washing up brush out of the bowl. We left nothing outside the car over night.
Waka the thief.
Next was Abel Tasman National Park, we booked a kayak trip here. There is a multiday trail along the coast which can be partly paddled in hired kayaks and then you walk the rest but we decided to do just a full days guided kayaking to see the seals and possibly penguins. We are both used to paddling single canoes but as on the Whanganui trip we managed a double without too many arguments.
Double sea Kayaks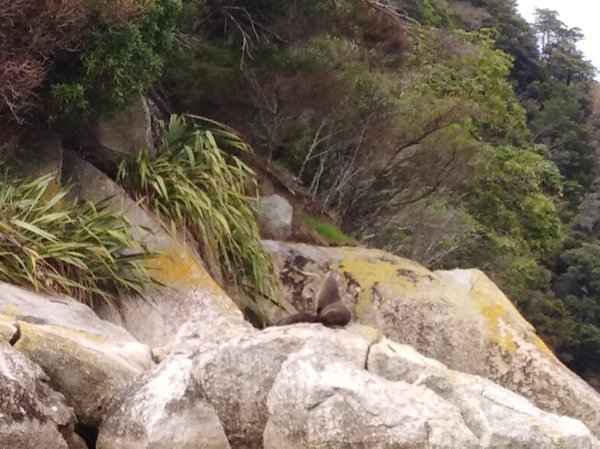 Spot the Fur Seal. This was a male, but we saw lots of pups playing as well.
---