Great Barrier Reef to the Whitsundays

Serenity of Swanwick
Phil and Sarah Tadd
Thu 29 Jun 2023 22:12
We have moved on quite quickly in the last week and a half, putting in long days and not stopping long.  We were now inside the Great Barrier Reef which gives some protection from the easterly swell and anchorages with white sand and clear water.  Our first day was just over 50 miles to Bustard Bay and was not a bad day with very little swell and a mixture of motoring and sailing.  Day two started before dawn for a 55 mile passage and we were quickly sailing with a  mostly southerly wind.  As we passed the next bay north we spotted our friends Andrew and Clare on Eye Candy on AIS.  A chat on the radio told us that we were heading for the same anchorage for the night and we matched paces with them through the day for a lovely day's sailing.  The anchorage behind Cape Capricorn showed on our chart as too shallow for us, but other information said that it would be fine.  Still, we were glad to see Eye Candy safely in behind the headland before we went in!
Day 3 was a short day, just 25 miles to Great Keppel Island.  Cape Capricorn is just a few miles south of the Tropic of Capricorn so we crossed into the tropics on this passage and it was like a switch had been flicked.  Suddenly we were into trade wind sailing with a gentle following breeze and smooth blue sea.  We poled out the Genoa and had a lovely sail into Fisherman's Bay on the west side of the island.  Once anchored, we went ashore for a walk, had a refreshing dip in the sea (22C) and then Andrew and Clare came over for drinks and a catch up – we had last seen them in Sydney Harbour at New Year.  Having made good progress we awarded ourselves a day off and stayed at Great Keppel, enjoying another walk and then moving to the anchorage on the south side of the island for shelter from the forecast northerly.  There we met Robert from Edinburgh on his lovely Contessa 32, Silver Harmony.
Trade wind sailing with the Genoa poled out
Its been a while since the water was so clear we could see the anchor chain on the sea bed
Walking on Great Keppel Island
Looking towards Long Beach on Great Keppel
High pressure was now establishing itself over the Capricorn Coast and we could expect very little wind for the next week, so our choice was to stay where we were or to push on under motor.  We want to get north relatively quickly and, pretty though it is, Great Keppel wasn't somewhere we wanted to stay that long so we decided to continue and mapped out some full days.  Port Clinton, on the mainland, was our first overnight stop after 46 miles, then it was 60 miles to Middle Percy Island.  Clare had told us that they had been seeing humpback whales, which migrate north from Antarctica to breed around this coast in the winter, but this was the first day we saw any.  From there on we saw them on a daily basis, including one that swam past the anchorage at Middle Percy Island and another that swam in circles close to us as we motored.
A welcome beer at the end of a long day's motoring
Ashore at Middle Percy Island the A Frame is a focus for beach parties and visiting yachts leave a memento of their visit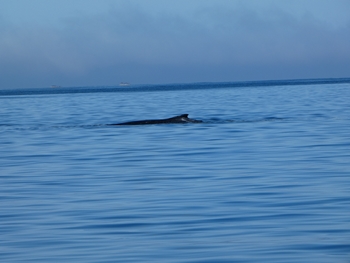 Whales
We considered taking another break here, but the anchorage was quite crowded and noisy with motor boats partying so we decided to carry on, and put in a 65 mile day motoring to Keswick Island in the Cumberland group.  We got there to find the party boats had overtaken us in the day and were in the anchorage before us!  From here it was another 48 miles under engine to Whitehaven Bay in the Whitsunday Islands.
The Whitsundays are one of the favourite playgrounds for Australian yachtsmen and we wanted to spend a few days around them.  However we are running low on fresh food and, as there are no stores on the islands, it has been a whistlestop tour.  We spent our first night at Whitehaven Beach, known for its white silica sand.  It is popular with visiting yachts and day-trippers who come out from nearby Airlie Beach on fast catamarans and as a result is quite busy and noisy.  In the morning we walked up to the lookout over the beach before continuing up the coast of Whitsunday Island.  For the first time in 5 days we sailed the short trip to Tongue Point helped by a couple of knots of favourable tide.
Monitor lizard at Whitehaven Beach campsite
Whitehaven beach – 7km of pure white sand
There were reef protection moorings in the bay behind Tongue Point and another short walking trail.  We felt the need of more exercise so picked up one of the moorings despite the place being packed with tourist boats.  We sat on board Serenity until we saw the day-trippers beginning to come back to the beach before going ashore to walk to the viewpoint and then we discovered why they were all there: the view was stunning.
Hill Inlet from the Tongue Point lookout.  We were there at half tide, the swirls of white sand are more evident at low water
This morning we left that mooring and sailed and motored up the east coast of Whitsunday Island and then around the north of Hook Island to Butterfly Bay, where we stopped for lunch and to go snorkelling.  The water is now up to 24C, but the coral was a bit disappointing with only a bit of colour and a lot of bleaching.  This afternoon, wanting an internet signal, as it is a while since we saw a weather forecast, we came round the west side of Hook Island to moor in Stonehaven.  Its a two day trip from here to Cairns which we can do on the food we have on board or we can go to Airlie Beach for restocking.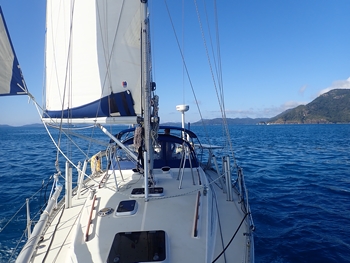 A gentle sail in the Whitsunday Islands
---