Daniels Bay 8:56.7S, 140:09.8W

Serenity of Swanwick
Phil and Sarah Tadd
Sat 8 Jul 2017 00:06
While on Ua Pou we were talking to the crew of Fruit Salid, an Australian boat we first met in the Galapagos, and they told us about their visit to Daniel's bay. On the south of Nuku Hiva are three main bays this is the western most, they described it as more awe inspiring than Fatu Hiva.
The valley that goes up from the beach has the third highest waterfall in the world which plunges down from the plateau 2000ft above.
We had tentatively arranged to meet Saga here so Monday afternoon we sailed the 5 miles along the coast and into the bay. An interesting entrance which appears quite narrow as you approach it riding the swell with waves breaking on the rocks either side but inside is absolute calm as you tuck in round the corner well protected by the headland.
Spot the entrance.
Saga were here before us along with one other yacht so there was plenty of room to anchor well in behind the headland.
Saga and Serenity.
Yesterday we went ashore to walk up to the waterfall. The landing place is on the right side of the bay where there is a narrow passage with no breaking waves into a river entrance. At high tide you can follow the river around behind the beach and tie up to the palms.
Beach and the valley to the waterfall.
The family who live here have reclaimed the area from jungle, diverted the river to flow behind the beach and look after the trail. They can supply fruit and fresh water and will also provide a typical Marquesan meal at lunch time. The walk to the waterfall follows the river up stream crossing it a few times and takes you through the remains of the old villages. This was the home to three tribes and the King and Queen.
The reclaimed and planted area close to the beach.
The village church.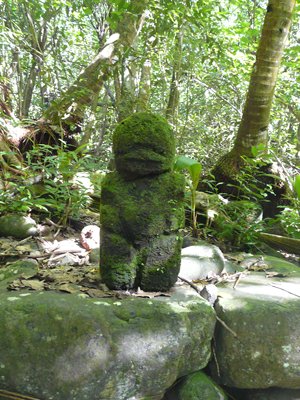 Tiki sitting on a Pae-Pae (House Platform)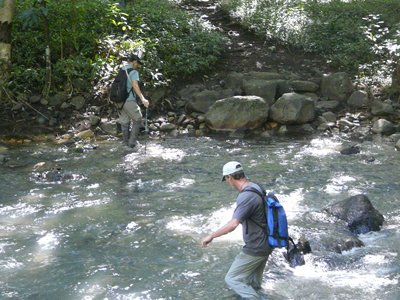 River crossings, not much above knee deep.
The waterfall from the path.
Close up the waterfall is hidden by the twists and turns of the valley until you get to the pool at its base. Even then you have to scramble over the rocks to see more of it.
All in all an excellent five hours expedition and we only lost the path twice. Once in an area of Pae-Pae (house platforms) and the when we had to cross the river to enter the final gorge. Once you realised that there was no path where you were and waded the river the path appeared again.
---