A week around Bruny Islands and meetings with old friends 42:49.75S, 147:18.19E

Serenity of Swanwick
Phil and Sarah Tadd
Mon 23 Jan 2023 11:00
We left Margate Marina last Monday morning, and after filling up with fuel in Oyster Bay we had a gentle sail to Missionary Bay, on North Bruny Island, to join Saga for the night.  Inge and Thomas came on board for tea and we caught up on the 7 months since we last met in New Zealand.  Missionary Bay was beautifully protected from the north, but with strong north winds on Tuesday going southerly on Wednesday morning we wanted protection from both directions so on  Tuesday we unrolled the genoa and had a good sail, covering the 17 miles to Mikey's Bay on South Bruny Island in just over 4 hours.  We knew Whisper HR was anchored here, but it was an unexpected pleasure to also recognise Torea.  We met Steve last year in New Caledonia and knew he was planning to be in Hobart for the Wooden Boat Festival next month (Torea is a traditional 1960's racing boat). 
After a chat with Kevin and Mei from Whisper and a short stroll on the beach we went over to Saga for supper.  Most of the boats in the anchorage moved across to the south side of Taylor Bay when the wind went light in the evening, but we were enjoying ourselves on Saga and saw no point in moving till the morning, we moved across just as the wind was turning southerly at 06.00.
Mikey's Bay with Whisper HR to the left
Ashore in Mikey's Bay
We had a couple of walks from this anchorage. A circular trail across the peninsula, with views out to a stormy sea which showed us just how sheltered our anchorage was, and a longer walk south to South Bruny Lighthouse.  Before we left here Steve and his crew Christina came on board for drinks and another good catch up!
The breakers rolling into the bay below the lighthouse
South Bruny Lighthouse
Antarctica is that way
We wanted to get to a shop for some fresh fruit, and had heard that Port Cygnet was a nice place, so we drifted across on a light southerly.  Torea was there before us and as we rounded up to drop the anchor we realised we were right next to David on Pied de Lune.  We had heard that they might be in this anchorage – David helped Phil, drove him around Noumea and translated for him last year when our auto-pilot failed. Also here was Somerset, with Andy, Ludmila and their three youngest boys.  The eldest of the three was working for a few weeks with the local boat builder before they continue their circumnavigation of Australia.  David told us that it was Happy Hour at the local sailing club that evening so we went along with Steve and Christina and were made very welcome by the local sailors.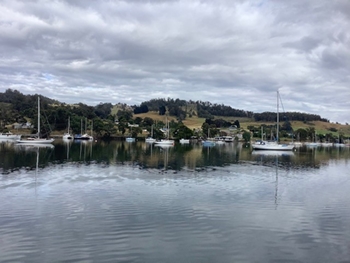 Port Cygnet, with Torea at far left
Saturday morning was our chance to catch up with Andy, Ludmilla and David, which we did over morning coffee on Serenity.  Then, because we were due in Hobart on Monday morning and it was a 41 mile trip, we lifted our anchor and started north.  We expected a southerly wind to blow us on our way, but it was more easterly and sometimes north easterly so it was a slow trip and we ended up eating our supper underway.  Just as we got towards our planned overnight stop in the Duck Pond the rain caught up with us and we were a bit damp by the time we were anchored.
The Duck Pond in the morning after the rain had cleared
We had a quiet night, but in the morning the Kookaburras were laughing at us as we raised the anchor again and carried on north.  We wanted to be close to Hobart on Sunday evening as we would have the tide against us in the morning and wanted as short a distance to cover as possible, but we had some time to spare so we stopped for lunch and a walk at Mary Anne Bay.
Walking the Arm End Track from Mary Anne Bay.  After a wet winter Tasmania has been very dry and everywhere the grass is brown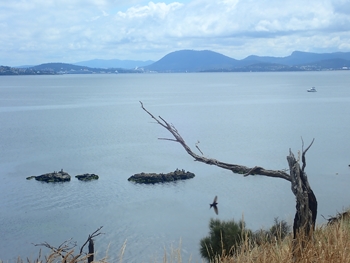 Looking north to Hobart from the Arm End Track
Serenity at anchor in Mary Anne Bay.  We were surprised to see so few boats this close to Hobart at the weekend
Come early afternoon there was enough wind to sail so we got the genoa out for the final 5 miles to Kangaroo Bay, on the opposite side of the river from Hobart city centre.
Hobart, with Mount Wellington behind
This morning we motored the last 4 miles up the river to Prince of Wales Bay marina where we will be leaving Serenity for a week or 10 days while we take a road trip around Tasmania.
We had to go under Tasman Bridge to get to the marina.  Only large commercial vessels are allowed to go through the central 3 spans, but there was more than enough clearance for us to the side.
---