Curacao - Spanish Water, 12:04.8N,68:51.8W

Serenity of Swanwick
Phil and Sarah Tadd
Thu 2 Feb 2017 16:48
Sunday we were up and ready to move from Bonaire at first light, a good half hour later than St Lucia but you gain by having lighter evenings. The trip to Curacao is about 40 miles and all downwind. With one reef in the mainsail and a couple of rolls in the genoa we made excellent speed, 8 knots at times, to arrive in Spanish Water early afternoon. We saw lots of large flying fish on the way. (These are incredibly solid fish. While we were anchored in Kralendijk we were woken one night by a lot of noise on deck which on investigation turned out to be a fish which had flown on-board and was trapped between the sprayhood and our plotter. It was thrown back.) We also had a flypast by Pink Flamingos, so bright that they look as if they're wearing fluorescent jackets.
The entry to Spanish Water is along a narrow channel between a sandbar on one side and coral on the other, which required careful steering by Sarah. The 'Water' itself is a large lagoon with a number of anchoring areas and small marinas, we chose to anchor in the Northwest anchorage which is closest to a dinghy dock at Fisherman's Harbour and gives easy access to buses. Anchored close by was 'Elza' a Dutch boat that we knew from Bonaire.
Spanish Water – the entrance is the narrow channel running south to north
Monday morning we set out for Willemstad to clear in with customs and immigration, first walking a couple of miles to an ATM to get some local currency, actually we needn't have bothered as US$ are accepted everywhere at a fixed rate. The customs are on one side of the river in Willemstad and Immigration and Harbour Authority on the other about a mile apart, customs were very efficient once we reached the front of the queue as were Immigration with the normal forms to fill in but unfortunately we reached the harbour office as it closed for lunch. By the time we had eaten, returned to the office and paid for our anchoring permit there was little time to do anything else with the afternoon.
Willemstad waterfront
The floating Bridge
The bridge opening, the full length of it swings open.
In the evening Kris and Lisa from 'Elza' drove us to a supermarket so that we could stock up and then along with Arthur, who was the car's owner, came on board for a drink. Its really interesting to spend time with local people and to get there views and experiences of the Islands. Kris and Lisa have been out here cruising for 20 years and have a house on Curacao which is rented out. Arthur is local and lives on a yacht moored behind us which he considers is safer than living ashore!
We are waiting here for a weather window to sail to Santa Marta in Colombia which is about 350 miles and it is recommended that this is a passage to be made in light winds. We therefore have time to explore the island a bit and yesterday we visited Willemstad again, this time to look at the city with its floating veg market, boats from Venezuela, the oldest continuously used synagogue in the Americas and the slavery museum.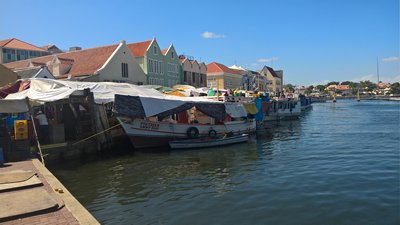 The floating market
Synagogue
The Synagogue was very peaceful and not having been into one before quite interesting, the floor is covered in sand to symbolise the desert encampment established in the Sinai during the forty years wandering and also to remember the background of secret Jews in Spain and Portugal who put sand on the floors of the rooms they worshiped in to deaden the sound at the time of the Inquisition.
The slavery museum looks at the history of slavery, mainly African slaves brought to the America's but also touching on white slavery and modern day slavery. A museum with lots of artefacts but which could do with a revamp to give a more coherent trip.
---