Manta Ray Bay, Drawaqa Island - 17:10.28S, 177:11.25E

Serenity of Swanwick
Phil and Sarah Tadd
Thu 3 Oct 2019 05:23
With settled weather on Tuesday we were one of a number of boats to leave Vuda Marina in the morning. We motored to start with heading north east towards the southern end of the Yasawa island group and over taking a couple of Norwegian yachts that were on a slightly more northerly course than us. Half way through the 25 mile passage we were able to get the mainsail up and drawing to give us a bit more speed, but the engine stayed on.
We dropped anchor at 1520 off Namara village, where Wayasewa island is connected to Waya island by a short sandspit, alongside another Norwegian yacht. After a cup of tea we went and presented our sevusevu to Jim, the Tauranga-ni-Koro, or Head Man. Two of the Norwegians were teachers and had asked to see the school, so we were taken there where the boarders from the more distant of the 3 villages on the island were having their study hour. We had watched other children wading across the awash sandspit on their way home a bit earlier. As we walked back through the village people were sitting outside their houses and there was a chorus of 'Bula's (hello) from everyone we passed. We stopped and had a chat with Charlotte, who was weaving a new floor mat under her porch, and made plans to go back the next day to see her handicrafts.
Namara Village
There are 28 homes in the village, population 86
After school study for forms 1 and 2
All the schools we have visited have similar vision statements prominently displayed
Bougainvillia - lovely
We stayed longer than we expected and the tide was coming in. These 3 sweeties were trying to pull our dinghy further up the beach for us, under the watchful eye of the adults in the neighbouring house
Wednesday was Sarah's 60th birthday and she had asked for a white sand beach and a glass of wine, so we planned to snorkel in the morning, fulfil our commitment to revisit Charlotte after lunch, then walk on the beach at low water before returning to Serenity for supper and wine. As frequently happens in sailing the weather had other ideas. We had our snorkel – it was a nice swim, but the coral and fish were a bit disappointing – and went back on board for lunch. The wind then began to blow directly into the anchorage and to pick up an uncomfortable chop. After much debate we decided we couldn't stay – the wine glasses would not have stayed on the table – so we lifted our anchor and headed north along Waya island looking for a more comfortable spot.
The sandspit between the islands
Birthday Beach
These islands bear a resemblance to the Marquises, with their dramatic cliffs and peaks
Looking north to Waya island
There was an anchorage part way up the west side of the island, at the Octopus Resort, but the yacht that was anchored in there was rolling heavily, so we didn't stop. We learned this morning that it was our friends on 'Forever' – they called us on the radio but we didn't hear them. We found relative comfort in Nalauwaki Bay at the northern end of Waya island. There was still some roll there, but we managed a couple of glasses of wine with our supper.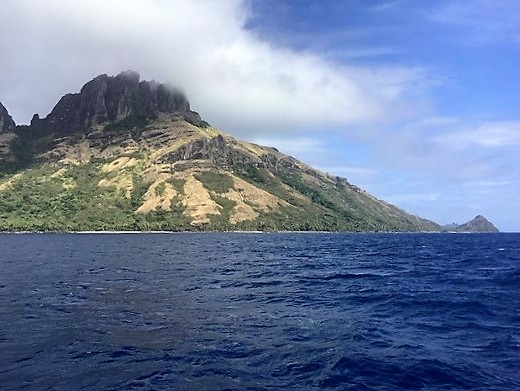 Dramatic peaks as we motored along the west coast of Waya
Our anchorage at Nalauwaki Bay, Waya island
This morning an email from Michelle on 'Forever' told us that they were heading for Manta Ray Bay and that was where we had been thinking of visiting next, so once Phil had changed the connectors on the batteries for the new brass ones he had bought in Vuda Marina we motored up here as well and anchored between 'Forever' and 'Fiesta', our Norwegian companions from 2 nights ago. A short while later 2 more Norwegian yachts that we haven't seen before came in and anchored. There is also a small cruise ship just outside us. We are in 20 metres of water, so have all our 60 metres of chain out, and its rolly again – it seems to be the general state in these islands.
We snorkelled the pass and the shore close to the boat this afternoon. The tide was too low for Manta Rays, we'll hope to try again in the morning, but along the shore there was plenty of pretty coral and shoals of fish. This might also be worth another visit when there is more water.
---